2018 FIFA WorldCup Scorer
A 21st FIFA worldcup kicked off on 14th June in Russia, total 32 teams are participating in this international football tournament.
Below are the Group stage Matches result with the history of players who have scored goals in this tournament so far.
Group D Match:
Argentina vs Croatia
Result :0-3
Mistake by Argentine Goalkeeper while passing ball led to a goal for Croatia!
Ante Rebić – He is a Croatian professional footballer who plays as a winger for Eintracht Frankfurt. On the international level, Rebić plays for the Croatian national team.
Willy Caballero– He is an Argentine professional footballer who plays as a goalkeeper for Premier League club Chelsea and the Argentina national team. He will be remembered for his own mistake in match versus Croatia in FIFA 18 for given a easy chance to his opponent.
Group C Match
Belgium vs Panama
Result:3-0
Goal Scorer:
Romelu Lukaku–Romelu Menama Lukaku Bolingoli  69′,75′ (born 13 May 1993) plays as a striker for Premier League club Manchester United and the Belgium national team.Lukaku made his senior international debut for Belgium in 2010, and has since earned over 60 caps and is their all-time record goalscorer with 36 goals. He has also represented the country at the 2014 World Cup and Euro 2016.
Dries Mertens 47′ :He plays as a striker or winger for Italian club Napoli and the Belgium national team.Mertens made his Belgium debut in 2011 and has since made over 60 appearances for the national team. He was also part of the nation's squads at the 2014 FIFA World Cup, UEFA Euro 2016 and the 2018 FIFA World Cup. In 2016, he was named Belgian Footballer of the Year.
Group A Match
Costa Rica vs Serbia
Result: 0-1
1.Aleksandar Kolarov– He playes for Italian club Roma and captains the Serbia national team.
Kolarov was a part of the successful Serbia under-21 team which reached the final of the 2007 U-21 Championships held in the Netherlands. Kolarov was named in the UEFA Team of the tournament. In the semi-final clash with Belgium, he scored a free-kick from long range.
He also represented Serbia at the 2010 FIFA World Cup and played a major role in UEFA Euro 2012 qualifiers and friendlies. Kolarov was eventually rewarded for an impressive 2011 with the Serbian Footballer of the Year award
On 11 September 2012, Kolarov scored his first goal for Serbia during a 6–1 win against Wales in a 2014 World Cup qualifier. On 7 June 2013, he scored from a free kick against Belgium in a 2014 World Cup qualifier. On 7 September 2014, he scored the equalizer in a 1–1 draw with France.
Group E  Match
Russia vs Saudi Arabia
Result: 5-0
Goal Scorer :
1. Yury Gazinsky 12'- 28 yrs old Yury Aleksandrovich Gazinsky  plays as a defensive midfielder for Krasnodar and the Russia national team.He scored the first goal of 2018 FIFA worldcup against Saudi Arabia.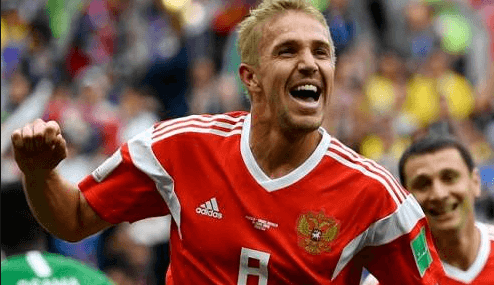 2.Denis Cheryshev 43′,90+1′–  27 yrs old Denis Dmitriyevich Cheryshev  plays as a left winger for Spanish club Villarreal CF and the Russian national team.He is a ex- real madrid player. He scored a brilliant two goals for his team.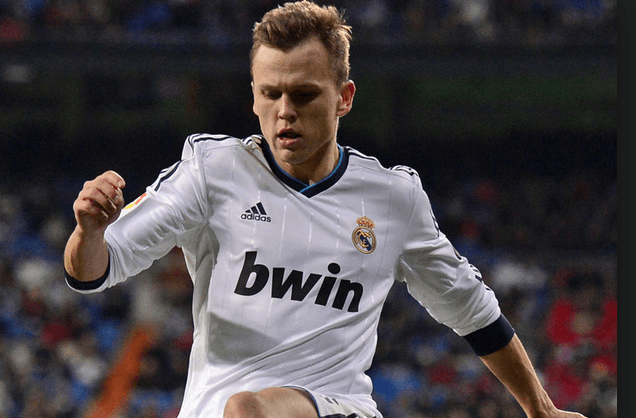 3.Artem Dzyuba 71′– 29 yrs old Artem Sergeyevich Dzyuba  plays as a striker for Zenit St. Petersburg and the Russian national team.His first appearance was at a  UEFA EURO 2016.He was drop out from the squad of FIFA Confederations Cup 2017 due to injury, but when on form, he is one of the best strikers in the Russia squad.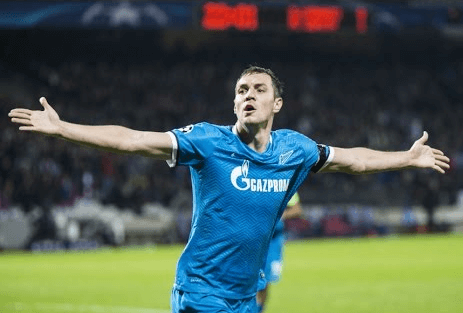 4. Aleksandr Golovin 90+4′– 22 yrs old Aleksandr Sergeyevich Golovin i plays as a central midfielder for CSKA Moscow and the Russian national team.During the 2013/14 Uefa Youth League Golovin  displayed his skills to the wider audience.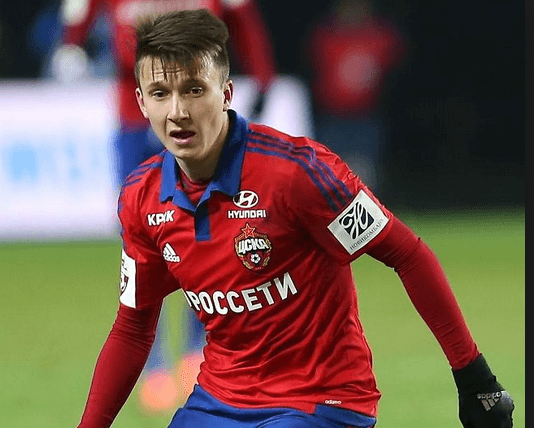 Uruguay vs Egypt
Result: 1-0
Goal Scorer :
1.José  Giménez 90′ – 23yrs old José María Giménez de Vargas plays for Spanish club Atlético Madrid and the Uruguay national team as a central defender.He scored last minute winner goal for his team against Egypt.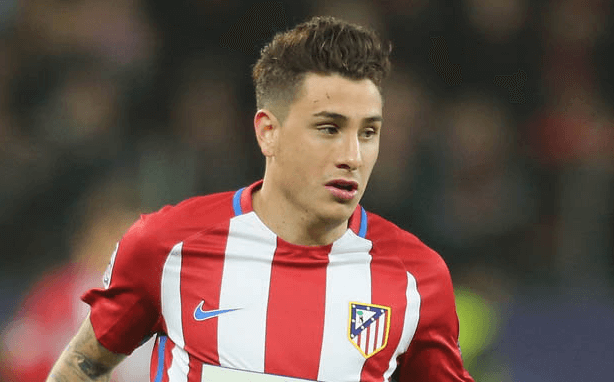 Group B
Morocco vs Iran
Result: 0-1

Iran was won because of own goal by Morocco player Aziz Bouhaddouz. It is the first own goal of FIFA 2018 .
Goal Scorer :
Aziz Bouhaddouz- 31 yr old Aziz Bouhaddouz  is a Moroccan footballer who currently plays for  Bundesliga side FC St. Pauli.Bouhadddouz was born in Morocco, but raised in Germany and was eligible for both national teams. He made his debut for the senior Morocco national football team in a friendly 0–0 tie with Albania in August 2016.He scores own goal in game 1 of 2018 FIFA World Cup against Iran.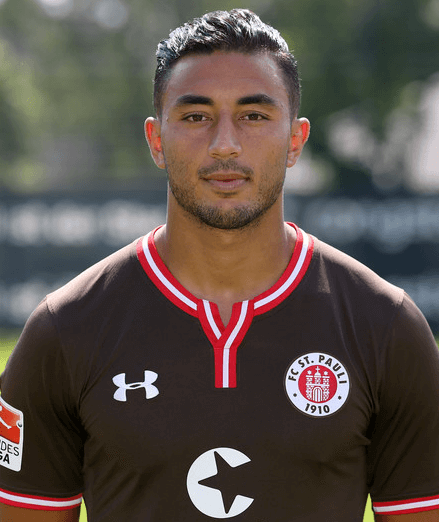 Spain vs Portugal
Result: 3-3

Goal Scorer :
(Portugal)Christiano Ronaldo 4′(P),44′,89′– Ronaldo scores the first penalty of FIFA 2018 against SPAIN in the first 5 min of the match.He scored again at the end of the first half and last half to put scores level.Ronaldo scores the first hat-trick of FIFA 2018 World cup .
(Spain)Diego Costa 24′,55′– 29yrs old Diego da Silva Costa plays as a striker for Spanish club Atlético Madrid and the Spanish national team.He began his career with Braga and Penafiel in Portugal, and was signed by Atlético Madrid in 2007. Costa played Internationally twice for his native Brazil in 2013, but after he declared his desire to represent Spain, having been granted Spanish citizenship in September 2013. He scored twice in the first game of FIFA 2018 against portugal.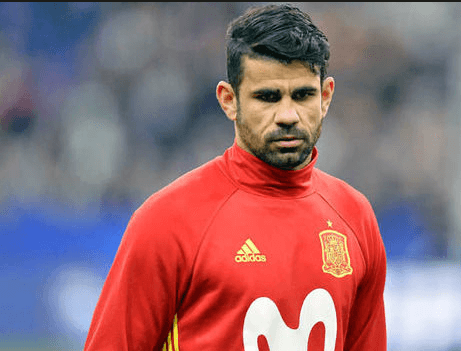 (Spain)Nacho 58′– 28 yrs old José Ignacio Fernández Iglesia commonly known as Nacho, is a Spanish professional footballer who plays for Real Madrid mainly as a central defender but also as a right or left back.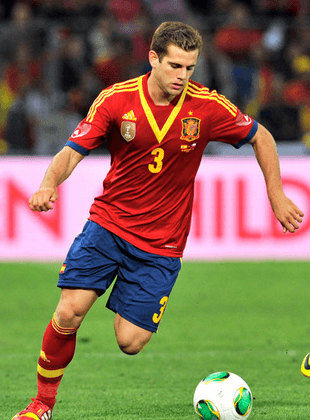 Group C
France vs Australia
Result: 2-1

Goal Scorer :
Lets Read about Anotine Griezmann,Paul Pogba and Mile  Jedinak.
(France)Anotine Griezmann 58'P- 2Antoine Griezmann plays as a forward for La Liga club Atlético Madrid and the French national team.He joined Atlético Madrid club in record €30 million (£27 million) deal.He is  also  nominated for the 2016 Best FIFA Men's Player.
(France)Paul Pogba 80′-Paul Labile Pogba  plays for Premier League club Manchester United and the French national team. He plays mainly as a central midfielder, but can also be deployed as an attacking midfielder, defensive midfielder, and deep-lying playmaker.Pogba is named as one of the ten most promising young players in Europe.Internationally, at under-20 level, he captained France to victory at the 2013 FIFA U-20 World Cup and took home the award for the Best Player for his performances during the tournament.
(Aus)Mile  Jedinak 62'p– Michael John Jedinak  plays as a defensive midfielder for Aston Villa and the Australia national team of which he is the captain.Jedinak has made over 60 appearances for the Australian national team including 2010 and 2014 FIFA World Cups and has been Captain over 25 times since 2014.
Source:Wikipedia
Keep reading this blog for the upcoming scorers of the 2018 FIFA World Cup!