International Day of Sport for Development and Peace 2022-Message and Role
The IDSDP will take place on 6 April 2022 when the International Olympic Committee and the entire Olympic movement join together with the global initiative to encourage everyone to work and be safe at a time of unparalleled health problems in the world and of demanding that the population stay at home to prevent the spread of COVID-19.
Role of Sports in fighting COVID-19
The COVID-19 pandemic spreads to more nations, territories and regions of the world at an unprecedented pace, and physical and social distancing activities are becoming widespread to halt disease spread. The closing of fitness centres, leisure halls, parks, public reservoirs, dance studios and playgrounds means many of us can not engage regularly in athletic or physical activities for individual or group members or watch live sports events. Despite COVID-19, this does not mean that we should avoid being physically active, The World Health Organization recommends 150 minutes of moderate-intensity or 75 minutes of vigorous-intensity physical activity each week with no equipment and limited space.
Using our unique individual talents and collective strength, we are able to come together and share innovative ways to enhance health and well-being, right from our own homes, through sport and physical activity. This is a human right, a powerful tool to reinforce social relations, foster sustainable development and stability, as well as unity and respect. Sport and physical activity are important for retaining fitness and well-being, in a time of social instability. Physical exercise promotes mental health, allows bad perceptions to beat, decreases stress and depression, and improves the immune system.
Theme of International Day for Sports Development and Peace 2022
This year the theme of International Day for Sports Development and Peace 2022 is – "Securing a Sustainable and Peaceful Future for All: The Contribution of Sport,
The theme gives the Day's commemorations an opportunity to advocate the use of sport as a tool for advancing human rights and sustainable development. The United Nations Headquarters in New York will honour the importance of sport in tackling the climate issue, as well as initiatives to reduce greenhouse gas emissions and mitigate climate change, as part of this subject.
The relationship between sport and climate must be better understood, and ways of developing policies and taking concrete action to help reverse the impact of climate change through sport must be communicated to as wide an audience as possible, as the need for urgent action grows more dire by the day.
Sport will reach across frontiers, defy stereotypes, enhance our physical and mental wellbeing and promote hope through countries, but this is something we can only return to if we recover faster and help to deter the pandemic by saving others from COVID -19. Using the hashtags #SportDay and #OnlyTogether, concerned United Nations bodies and foreign organizations should adapt the topic carefully to their own particular mandates and events, showing how sport and physical exercise can help create a healthier and safer environment as society starts to reopen and heal after the pandemic finishes.
Worldwide, Olympic athletes have already posted some interesting ideas and tips on keeping fit and safe on social media platforms. Everyone is motivated by remaining active and sharing their home training on their social media accounts using the hashtags #BeActive, #StayStrong, #StayHealthy and #StayActive.
Why 6th April is declared as International Day of Sport for Development and Peace?
In 2013, the UN General Assembly proclaimed the date – marking the launch of Athens 'first modern Olympic Games in 1896 – to be a 24-hour celebration of sport's ability to promote peace and understanding. UNESCO is the main body for physical education and sport (PES). UNESCO argues that sport is a strong tool for social inclusion, gender equality and empowerment of youth, with benefits reaching beyond stadiums. Nonetheless, ideals learned through and through sport — such as fair play and team spirit — are important to society as a whole.
Logo of International Day of Sport for Development and Peace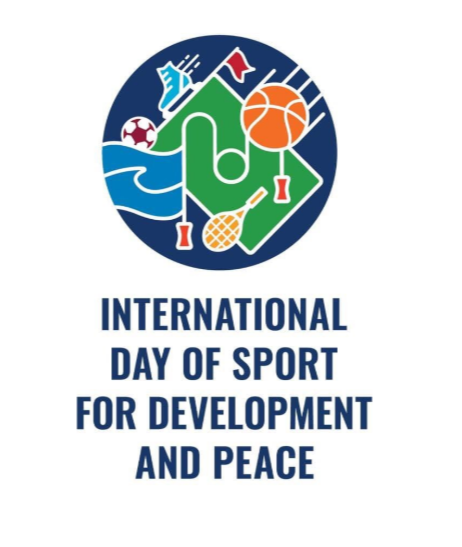 Swikriti Dandotia