International Day of Women and Girl in Science 11th February 2023 Theme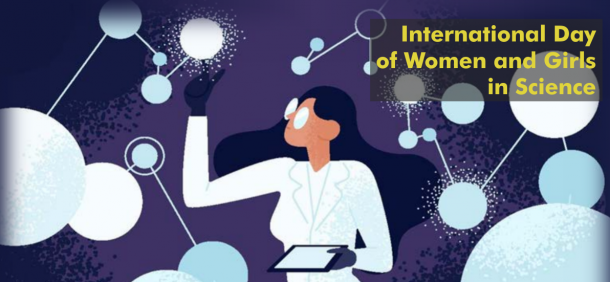 On every 11 February, the International Day of Women and Girls in Science is observed which allow us to celebrate the outstanding achievements of women in science and put a much-needed emphasis on girls entering science. The UNESCO and UN Women, in partnership with intergovernmental agencies and organisations, as well as civil society partners, are implementing the International Day of Women and Girls in Science with the goal of supporting women and girls in science. The aim of the day is to encourage complete and fair access for women and girls to participate in science.
This day is an opportunity to encourage women and girls to have full and equal access to and participation in science. For UNESCO, gender equality is a global priority, while supporting young girls, their education and their full capacity to make their ideas heard are the levers of development and peace.
Since the International Day of Women and Girls in Science was established by the UN General Assembly on 22 December 2015, it aims to highlight the issue of celebrating women's excellence in science and to remind the international community that science and gender equality must move hand in hand to tackle major global challenges and achieve all the goals and objectives of the 2030 Agenda.
Theme of International Day of Women and Girl in Science 2022
According to UN This year the theme of International Day of Women and Girl in Science 2023 is- Innovate. Demonstrate. Elevate. Advance. – I.D.E.A.: Bringing communities Forward for sustainable and equitable development
For the first time, the 8th International Day of Women and Girls in Science Assembly is structured around a number of imagined communities that primarily affect the SDGs that will be thoroughly examined in 2023: SDG 9 (industry, innovation, and infrastructure), SDG 6 (clean water and sanitation), SDG 7 (cheap and clean energy), and SDG 11 (sustainable cities and communities). Following the in-depth water discussions of the 7th IDWGIS of 2022, key stakeholders of these communities will be brought together for a substantive discussion on the means of implementation (SDG17): how to create the enabling environment for accelerated implementation of SDGS 7, 9, and 11 while maintaining a continuous focus on SDG6.
In order to deepen the connections between research, policy, and society for initiatives focused on the future, the IDWGIS seeks to link the international community to women and girls in science. As a result, the IDWGIS will present best practices, strategies, and implemented solutions in tackling the possibilities and challenges related to the SDGs. A science workshop for blind girls and a presentation on "Science in Braille: Making Science Accessible" by blind scientists will also be included for the first time.
According to UNESCO data (2014 – 2016), less than 30 per cent of researchers worldwide are women at present. Just about 30 percent of all female students choose STEM-related fields in higher education. The enrolment of female students worldwide is especially low in ICT (3%), natural sciences, mathematics and statistics (5%) and engineering, development and construction (5%). (8 per cent).
Swikriti Dandotia