National Girl Child Day 2023- Theme, Quotes and Significance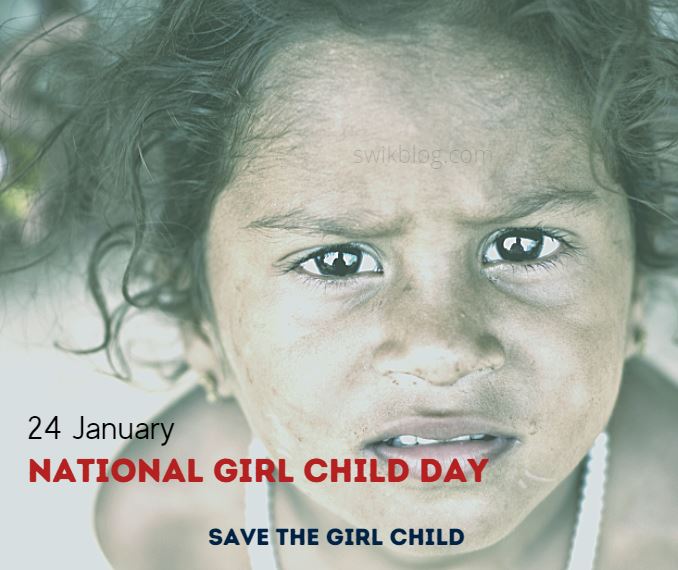 "You can call your daughter "Beta" but won't ever call your son "Beti" this signifies why Daughters are so special"
With a Purpose to spread awareness in society about the lack of equality girls facing today compared to boys, National Girl Child Day is celebrated across India every year on 24th January. In 2008 the Government of India and the Ministry of Women and Child development started Girl Child Day.
Additionally, the last year celebrations also highlighted the anniversary of the "Beti Bachao, Beti Padhao" (BBBP) scheme.
The main Significance of National Girl Child Day is to spread knowledge about the issues that a girl child is facing in India. Some major issues which still exist in our society are:
Education – Girls' education in India needs a lot of attention, as per the current situation literacy rate of women is around 64% compared to male literacy rate which is 82 %. By educating a girl child, we can make it possible for her to grow up and become an empowered woman.
Girls Nutrition – Problems like malnutrition, anemia, and vitamin A deficiency is very severe in girls especially residing in rural areas. Common causes of malnutrition are due to lack of adequate healthy foods and child care.
Child Marriage- Most of the child marriage involves underage girls who belong to poor socio-economic background. As per the UNICEF report, every one out of three world child brides is living in India.
Legal Rights and Girl Protection- Crime against innocent girls such as rape, acid throwing, honor killings, and forced prostitution have increased in the last ten years, also many cases of trafficking young girls have been reported. Several high-profile sexual assault cases like kathua rape case of 8 yr old girl sparked a national debate over girl safety rights and there is a need for social reform in the country.
Campaign like 'Beti Bachao,Beti Padhao' which addresses issues like stop female foeticide, girls' right to education is created a mass awareness about changing the mindset of people.Government is planning may strategies like increasing construction of toilet for girls in rural areas to increase the attendance of girls in school.
In today's era girls are not only restricted to education , in sports and other physical activities too they are marking their footprints. This is the first time in the history of Indian sports that the ministry of sports nominated Nine women athletes for the Padma awards 2020.
Read more on : Padma awards nominee and their achievements
Also , first time at the republic day parade this year all women biker contingent of CRPF will participate to showcase daredevil stunts. Its 65-member team will show skills on 350cc Bullet motorcycles .
Despite all of measures taken across at different level , we need to change the thinking of people in Male dominated Society where education of son is given more important and girls are always first choice for house hold works.But let's not loose hope ,with the coming years girls education in India will reach to new heights
This Year Ministry of Women and Child Development is promoting 5th Anniversary of "Beti Bachao Beti Padhao" campaign . Hashtags like #BetiBachaoBetiPadhao , #BBBP , #MeriBetiMeraGarv, #05YearsOfBBBP are trending on social media platform.
According to Nedan foundation of Assam the theme of National Girl Child Day 2021 is "Transforming Education for Girls"
National Girl Child Day Quotes and Slogans
"She is a women,She is a mother,She is a Daughter ,She is a Wife,She is a Sister-Respect female"
No girl – so, no mother – ultimately no life
"One girl,one teacher,one book,one pen can change the world"
"A baby daughter is always a Daddy's girl and Mommy's world"
"A Girl Child Brings Joy, She Is No Less Than A Boy"
"Care, because she does it selflessly"
"There is no tomorrow without a girl"
"Don't be cold,girls are more worth than a gold"
"Daughters are flowers that are forever in bloom"
"Girl Is Like A Butterfly, Then Why Making Them Cry"
Swikriti Dandotia