Pravasi Bharatiya Divas (NRI Day) 9th January 2023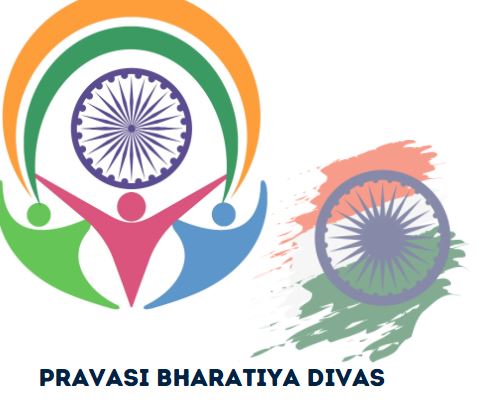 Every year on 9th of January is celebrated as Pravasi Bharatiya Divas, observed by the Republic of India (since 2015) to celebrate the contribution of the overseas Indian community to the creation of India. The day celebrates the return of Mahatma Gandhi from South Africa in 1915.
Established in 2000, it is funded by the Indian Government Ministry of External Affairs, the Federation of Indian Chambers of Commerce and Industry (FICCI), the Indian Confederation of Industries and the North East Ministry of Development. On 7–9 January, a celebration is held each year in an Indian town: a forum is held and the Pravasi Bhartiya Samman Awards for concerns of the Indian diaspora will be presented.
This year Indore, Madhya Pradesh will host the celebration of 17th Pravasi Bhartiya Divas, from January 8 to January 10, 2023 with the theme – "Diaspora: Reliable Partners for India's Progress in Amrit Kaal"
In compliance with the recommendations of the High Level Committee (HLC) on the Indian Diaspora set up by the Government of India the decision to celebrate Pravasi Bharatiya Divas was made under the chairmanship of L. M. Singhvi. On 8 January 2002, at a public meeting was held at Vigyan Bhavan in New Delhi, after that Prime Minister of India, Shri Atal Bihari Vajpayee, received the report of the Committee and declared the 'Pravasi Bharatiya Divas' (PBD) on 9 January 2002
Theme of Pravasi Bharatiya Divas 2023
The theme for 17 Pravasi Bharatiya Divas Convention 2023 is  'Diaspora: Reliable partners for India's progress in Amrit Kaal'
on 12 May 2020, Aatmanirbhar Bharat or Self Reliant India was announced which was a Honorable Prime Minister Narendra Modi's vision to make the country independent of the tough competition in the global supply chain and to empower people, particularly the poor, who have been adversely affected by the COVID-19 pandemic, to become self-reliant in all senses. Economy, infrastructure, technology-driven processes, vibrant demography and demand are the five pillars of 'Aatmanirbhar Bharat'.
About Event
The 16th PBD Convention will be held virtually in New Delhi on 9 January 2021. Two virtual plenary sessions will follow the inaugural session, where discussions will be held between leading diaspora experts on the topics I Diaspora's role in Aatmanirbhar Bharat, and (ii) Facing Post Covid Challenges in Health, Economy, Social and International Relations Scenario.
Swikriti Dandotia