Sant Ravidas Jayanti 2023- History and Facts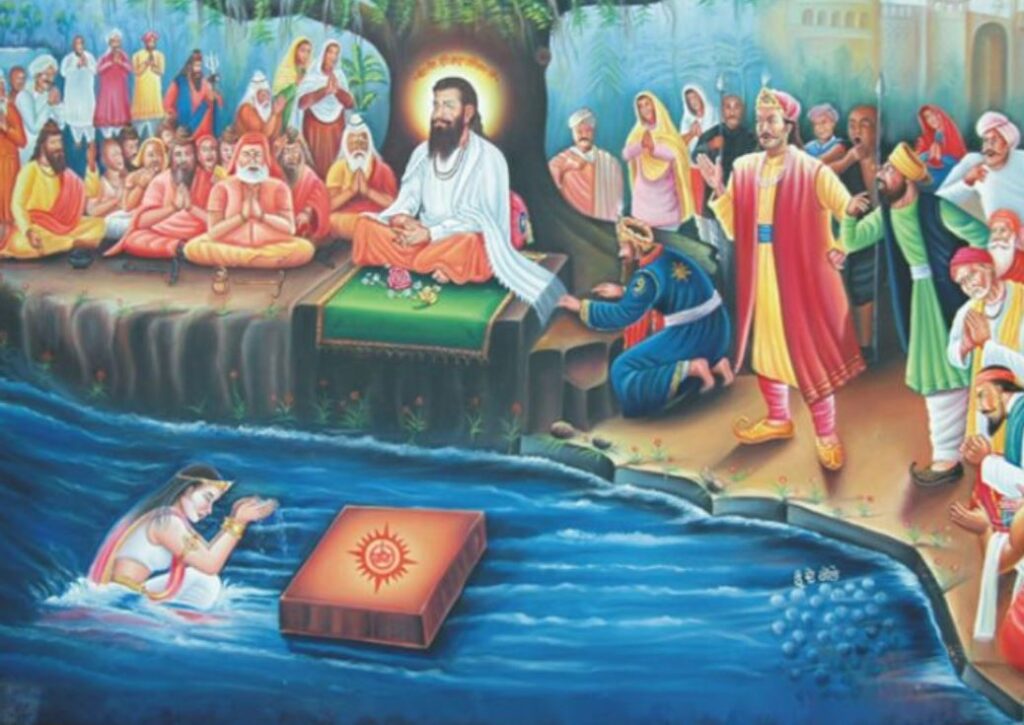 रविदास' जन्म के कारनै, होत न कोउ नीच,
नर कूँ नीच करि डारि है, ओछे करम की कीच
"Ravidas ji says that just by taking birth one does not become inferior but only the actions of human beings make him inferior".
Sant Ravidas Ji was a famous saint, a great scholar, a poet who taught his disciples the social and spiritual message that God is one and worshiping God with devotion is better than conducting religious ceremonies. According to him, the work of mankind is the genuine worship of God.
Born in a Harijan cast family, his parent's main occupation was leather work and was considered untouchable by the upper caste society. Being a lower class, Ravidas ji faced a lot of discrimination in his early life, which he stated through his writings. He was the firm believer of god and against the treatment of lower caste people. He believes in equality and was against the caste discrimination practice.
Why do we celebrate Guru Ravidas Jayanti?
Every year as per the Hindu lunar calendar His birthday is celebrated in Puran Mashi (Magh Purnima) of the Magh month. This year, Sant Ravidas Jayanti 2023 will be celebrated on the 5th of February. People celebrate Ravidas Jayanti to pursue his preaching and spread the message of faith, peace, all over the world.
A large number of devotees celebrate this occasion with enthusiasm and joy at his birthplace in Varanasi known as "Shri Guru Ravidas Janam Asthan".
Facts about Guru Ravidas Ji
He was the famous poet-saint of the Bhakti movement who has taught the principles of oneness(God is one), omnipresence(God is everywhere) and omnipotence(God having supreme power).
Sant Ravidas is also known as Raidas, Rohidas, and Ruhidas.
Ravidas' spiritual songs were included in Sikh scriptures, Guru Granth Sahib. Guru Nanak Dev ji used to sing the verses of Guru Ravidass ji.
Guru Ravidass ji met Guru Nanak Dev ji thrice while traveling to North India, first time both met in 'Chuharkana' now known as 'Nankana Sahib', Second time met at 'Sant Ghat' of Kali Bein (rivulet) in Sultanpur Lodhi, District Kapurthala and third time at "Guru Ka Bagh" temple in Banaras in 1498 A.D.
It is believed that Ravidas ji disappeared from the world leaving behind footprints which are still preserved at 'Guru Ravidass ki Chhatri' , Chittor. Some also believed that he died a natural death at the age of 126 yrs in Banaras 1540 A.D.
Mughal emperor Babur became a great follower of Guru Ravidas ji and started doing social works for the poor and inferiors.
Queen of Chittor Meera Bai was inspired by the teachings of Ravidas ji and became his great follower. She has given respect to Guruji in one of her songs –
"Guru milya Ravidas ji dini gyan ki gutki. Chot lagi nijnam hari ki mharey hivrey khatki".
Once asked by disciples to take a holy dip in Ganga, he denied them with a saying "Man changa to kathoti mein Ganga" means our body needs to be holy by soul not by just taking bath into the holy river.
Guru Ravidas Ji, had a good knowledge of Hindi, Urdu, Persian and many regional languages of India.
As mentioned in Sri Adi Granth, Poem from Guru Ravidas ji
"I Belong to the Kutabandhala caste ( a subcaste of the Chamar),
And men of my caste still carry carcasses on the outskirts of Banaras.
But now, before me, even the Brahmin Chiefs fall prostrate,
Because Guru Ravidass, Thy Slave, hath taken refuge in Thy Name"
The Adi Granth of Sikhs, and Panchvani of the Hindu warrior-ascetic community Dadupanthi are the two earliest attested sources for Ravidas literary works. The Adi Granth contains 40 of Ravidas 'verses, he is one of 36 contributors to this leading canonical scripture of the Sikhism.The poems of Ravidas address topics like the concept of a fair society where there are no unjust people of the second or third class, the need to disassociate and who is an real Yogi.
Swikriti