Sarojini Naidu 143rd Birth Anniversary 2023 – Quotes, Facts and History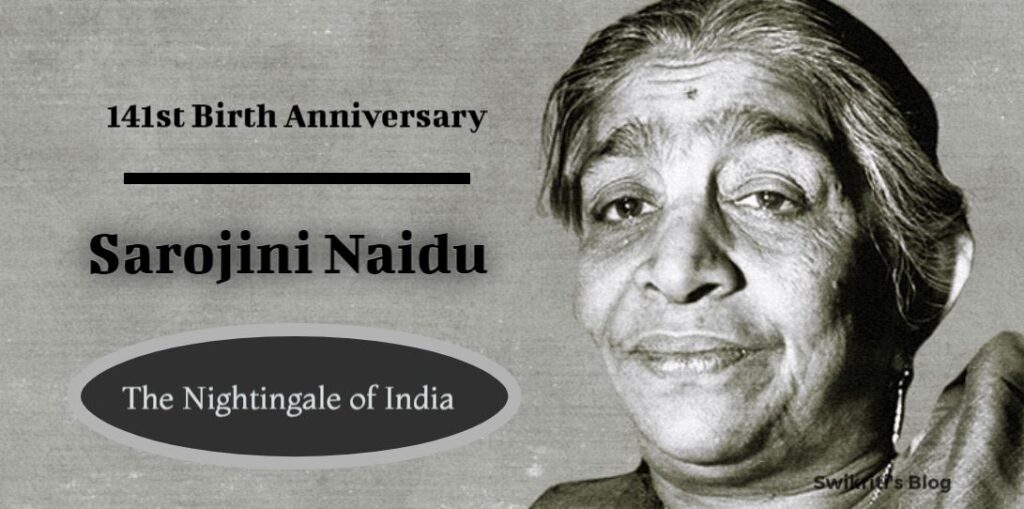 "I say it is not your pride that you are a Madrasi, it is not your pride that you a brahmin, it is not your pride that you belong to south India, it is not your pride that you are a Hindu, that it is your pride that you are an Indian."
A great freedom fighter, renowned poet, prominent political activist and the first women governor of India, Sarojini Naidu is a real source of inspiration for all women. She has taught women to motivate themselves against all odds and never compromise their rights.
Still, in the 21st-century women are fighting for equality and empowerment, Naidu in her time was actively involved in the freedom struggle against the British. She was educated in Chennai(University of Madras), In her teenage, she traveled to London(King's College) and Cambridge(Girton College) for further studies. Upon returning to India completely in 1920 she joined Gandhiji's Satyagraha movement.
She was inspired by the leaders like Gopal Krishna Gokhale, Rabindranath Tagore, Mahatma Gandhi towards fighting for the freedom from British colonial rule.
Every year on 13th Feb, National Women Day is observed in India to mark the birth anniversary of Sarojini Naidu who was born in 1879. This year Nation will celebrate her 143rd Birth Anniversary. She is one of the most inspiring women in India and always promoted women's rights. Her motto was clear- If one woman can travel country to country, state to state and city after a city then why other women in India can't get out of Kitchen and Household work.
Interesting Facts about Sarojini Naidu
She was known for her poetry, Her first recognition came in 1905 when her collections of the poem were published under the title "Golden Threshold".
For her remarkable work in poetry, she was called "Bul Bule Hind"("Nightingale of India").
She wrote her first 1300 lines long poetry-"The Lady of the Lake" while solving an Algebra problem.
Some of the famous poem written by Naidu are, Palanquin Bearers Lightly, O lightly we bear her along, She … , Autumn Song Like a joy on the heart of a sorrow, The … , Indian Weavers WEAVERS, weaving at the break of day, Why do you…, In the forest HERE, O my heart, let us burn the dear dreams …
Nawab of Hyderabad was very impressed when he read the play "Maher Munner" written by young Sarojini Naidu and he gave her the scholarship to study in King's College of England.
She was awarded "Kaisar-i-Hind Medal" by the British government for her useful service in the advancement of the public interest in India but later she returned the award as a form of protest against 1919 JallianWala Bagh Massacre.
In 1942, Sarojini Naidu was jailed for 21 months with Gandhiji for participating in the Quit India Movement.
Sarojini Naidu gave Jinnah, the chief architect of the Lucknow Pact, the title of "the Ambassador of Hindu-Muslim Unity".
Asteroid "5647 Sarojininaidu" discovered in 1990 was named in her memory.
Famous Inspirational Quotes by Sarojini Naidu
• "We want deeper sincerity of motive, a greater courage in speech and earnestness in action."
• "Oh, we want a new breed of men before India can be cleansed of her disease."
• "One needs a Seer's Vision and an Angel's voice to be of any avail. I do not know of any Indian man or woman today who has those gifts in their most complete measure."
• "When there is oppression, the only self-respecting thing is to rise and say this shall cease today, because my right is justice. If you are stronger, you have to help the weaker boy or girl both in play and in the work."
• "A country's greatness lies in its undying ideals of love and sacrifice that inspire the mothers of the race".
In today's era, we need such type of inspiring personality who can guide younger generations to keep India's pride always high.