World Heart Day 29th September 2022 Theme- Use Heart For Every Heart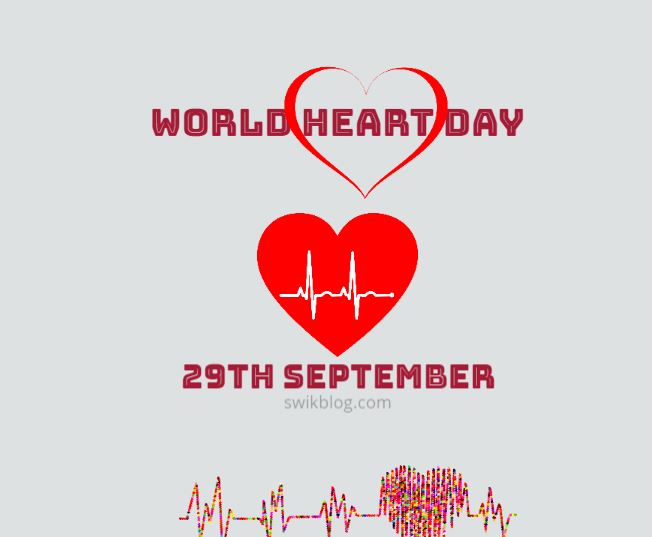 Every 29th of September is observed as World Heart Day, founded in 2000 to make people aware of global heart diseases and stroke which is the main leading cause of death. In 1999 the World Heart Federation (WHF) declared World Heart Day along with the World Health Organization (WHO). During 1997–99, Antoni Bayés de Luna, president of the WHF devised the concept for this annual gathering. The last Sunday in September was initially (until 2011), celebrated as World Heart Day with the first celebration on 24 September 2000.
As the World Heart Day takes place, medical experts emphasise the need to ensure a continued care of heart patients and use a healthier way of living to avoid complications associated with diseases.
In current we're living in unprecedented times. The COVID-19 pandemic has illustrated the profession of health, the national health systems and our individual responsibility-for our own health and the vulnerable in society. We may not know what direction the pandemic will take in the future, but we know that it is more important than ever to look after our hearts right now.
Theme of World Heart Day 2022
This year the theme of World Heart Day 2022 is Use Heart For Every Heart
In 2021, we want to use digital health to raise global awareness, prevent CVD, and manage the disease. While using HEART TO BEAT CVD, Telehealth will play an increasingly important role.
Use Heart means how you think, to make the appropriate choices. To act courageously. With the intention of assisting others. Get involved with this worthy cause. Only the heart can be heard and felt, making it unique among organs. It's the very first and very last sign of life. It has the capacity to bring individuals from all walks of life together.
With the use of the word "FOR," For Every Heart shifts the emphasis from the activities themselves to the people who will benefit from them, enabling the campaign to be used more broadly while simultaneously being more personal. To promote cardiovascular health for every heart, we want World Heart Day messages to be heard by as many people as possible.
Cardiovascular disease (CVD) is the world's leading cause of death. There are a wide variety of causes: from smoking, diabetes, high blood pressure and obesity, air pollution, and rare, untreated disorders such as chagas and heart amyloidosis.
CVD patients faced a double-edged threat during COVID-19. They are not only more vulnerable to serious forms of the virus, but may also be afraid to seek continuous treatment to the heart.
With COVID 19 an epidemic which has a negative impact on access to healthcare and mobility, the pandemic is exacerbating India's already high cardiovascular burden. With COVID-19 epidemic which has a negative impact on access to healthcare and mobility, it is exacerbating the India's already high cardiovascular burden. Doctors and health professionals are worried that delayed diagnosis and treatment delays lead to many preventive deaths and deteriorating patient prognoses.
Why World Heart Day is celebrated?
World Heart Day is a global movement in which people, families, organizations, and governments around the world take part in events to take care of their own and others' heart health. Through this initiative, in the fight against the CVD burden, the World Heart Federation unites people from all nations and backgrounds and encourages and drives international action to promote healthy-heart living across the world.
Swikriti Dandotia