International Day for the Conservation of the Mangrove Ecosystem 26th of July 2022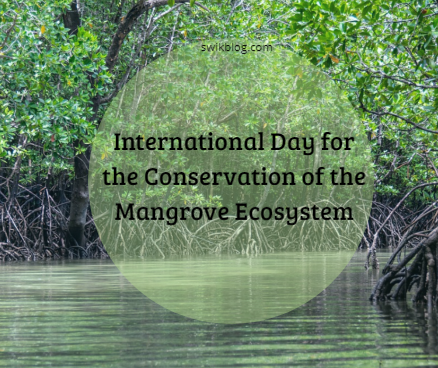 Every year 26th of July is designated to celebrate the International Day for the Conservation of the Mangrove ecosystem which was adopted in the general assembly in 2015 to raise awareness about the importance of mangroves which is a unique, special and vulnerable to ecosystem. It also promotes a solution for the sustainable management for the conservation and uses of ecosystem.
UNESCO is committed to fostering the protection of mangroves while supporting their local communities in a sustainable manner. The incorporation of mangroves in the biosphere reserves, World Heritage Sites and the World Geoparks of UNESCO helps improve worldwide awareness, protection and restoration of mangrove habitats. The SPAANS LAGOEN & MANGEL HALTO in Pos Chikito would certainly be the most popular mangrove sites in Aruba.
UNESCO promotes mangrove protection by building on its numerous mangrove habitats projects such as the Man and Biosphere Programme, the International Hydrological Programme, the Intergovernmental Oceanographic Commission and the program on Regional and Aboriginal Knowledge Systems.
What are Mangroves?
Mangroves on the land-to-sea border are unique, magnificent and abundant ecosystems. Such exceptional habitats help to ensure the well-being of the coastal communities around the world, food security and safety. They contribute to a rich biodiversity and give fish and crustaceans precious nursery ecosystems. Mangroves are also used as a natural protection of the coast against hurricanes, tsunamis, rising sea levels and erosion. We have highly powerful carbon sinks and sequester large quantities of fuel.
Yet, with significant ecological and socio-economic effects, mangroves are declining three to five times as quickly as the global forest losses. Present figures indicate that the habitat of mangroves over the past 40 years has been divided by two.
Mangrove forests are globally rare they constitute less than 1% percent of all tropical forests in the world, and less than 0.4 percent of global forest property in 123 nations and countries.
Uses of Mangroves
Since the dawn of time, mangrove habitats have been strongly controlled. The roots of red mangrove (Rhizophora sp) were used regularly to reinforce the natural fibre lines used in fishing before the introduction of synthetic lines. Traditionally they were used in boat construction and basket weaving as well as to manufacture charcoal much more intensively than today.
These forests are rich in biodiversity. They sustain diverse ecosystems with the presence of thousands of other organisms. They provide a valuable habitat for fish and shellfish; a source of nourishment for monkeys, deer, birds and even kangaroos; and a source of nectar for honeybees.
Mangroves role in climate change
In reducing natural hazard vulnerability and enhancing climate change resilience for this Mangroves plays an important role. Mangrove Forests are highly efficient carbon sinks that sequester massive quantities of carbon within land, leaves, trees, roots, etc. One hectare of mangrove will hold around 3 754 tons of carbon. Such coastal ecosystems become carbon dioxide reserves whether they are destructed, destroyed or damaged. Experts also calculated that, by occupying just 0.7 percent of the ground cover, mangrove deforestation emissions constitute up to 10 percent of worldwide deforestation emissions.
Swikriti Dandotia