International Tea Day 2023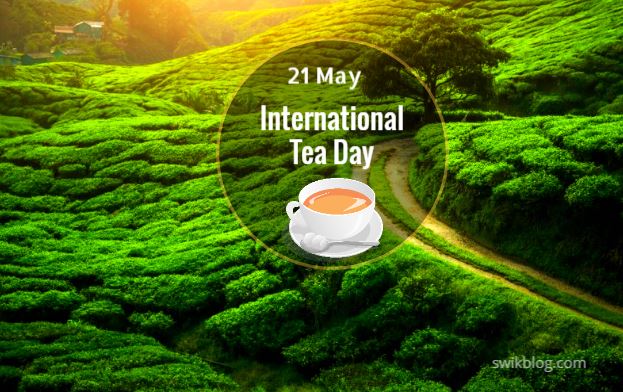 Tea or Chai is the world's most-consumed drink after water. International Tea Day is a United Nations observance celebrated annually on May 21. The day is celebrated to promote and encourage the collective effort for sustainable tea production and consumption activities, also to raise awareness about the value of tea production in the battle against hunger and poverty. The United Nations General Assembly has designated May 21 as the International Tea Day.
Since 2005, International Tea Day has been celebrated in the Tea Producing countries such as India, Sri Lanka, Nepal, Vietnam, Indonesia, Bangladesh, Kenya, Malawi, Malaysia, Uganda, and Tanzania. The first International Tea Day was celebrated in New Delhi in 2005, and later in Sri Lanka in 2006 and 2008. In 2015, the Indian government proposed that International Tea Day should be observed through the UN Food and Agriculture Organization.
Note:- Most of the countries like India, Sri Lanka, Nepal Vietnam, Indonesia, Bangladesh, Kenya, Malawi, Malaysia, Uganda and Tanzania celebrate International Tea Day on 15th December.
Importance of Tea
Tea is a kind of beverage that is made from the camellia sinesis plant. Tea was believed to be originated from Northeast India, Northern Myanmar, and Southwest China, but it is still not known where the plant grew first. Tea is used to be with us for a very long time. According to the confirmation the tea was consumed in China 5,000 years ago.
Tea Manufacturing is an important resource for the millions of families in developing countries. Tea cultivation and tea processing provide a livelihood for the poor families living in the number of least developed countries. In some of the poorest countries, the tea sector is a major source of income and export revenue, and provides employment, particularly for remote and economically vulnerable areas as a labor-intensive sector. Tea is one of the main cash crops and can play an important role in rural growth, poverty reduction, and food security in developing countries.
The consumption of tea can bring many health benefits and wellness due to its beverage anti-inflammatory, antioxidants, and weight loss effect, also tea has cultural significance in many societies.
Sustainable Development Goal in Tea Production
Tea production can help in achieving sustainable development goals such as tea cultivation and processing of tea can help to reduce extreme poverty (Goal1), fight against hunger (Goal 2), empower women (Goal 5), and encourage the sustainable use of land-based ecosystems (Goal 15). In addition, public awareness of the importance of rural tea and sustainable livelihoods must be raised urgently and the tea supply chain needs to be improved to contribute to the 2030 Sustainable Development Agenda.
Climate change can affect tea production as the tea is highly sensitive to climate change. Changes in weather and climate with more droughts and floods are already affecting yields, the quality and prices of tea products with lower income are threatening rural livelihood. These climate changes are expecting to get worse and it is demanding urgent measures of adaptation.
Swikriti Dandotia