World Bee Day 20th May 2023 Theme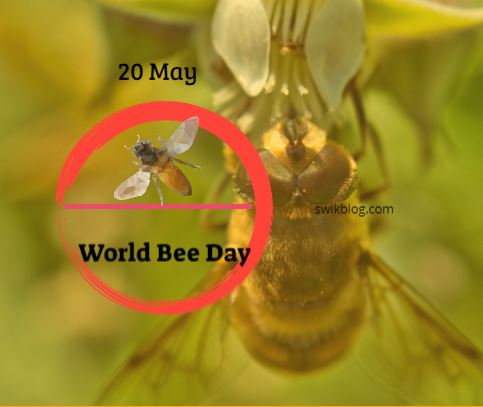 World Bee Day is the United Nations observance celebrated annually on the 20th of May to raise awareness on the vital role of bees and other pollinators in keeping people and planet healthy and also many challenges they face today. The UN General Assembly proclaimed 20th May as World Bee Day and since 2018, this day is celebrated across the globe.
The aim of celebrating World Bee Day is to strengthen initiatives to protect bees and other pollinators, which would contribute significantly to solving world food supply problems and eliminating hunger in developing countries.
Theme of World Bee Day 2023
This year the theme of World Bee Day 2023 is "Bee engaged in pollinator-friendly agricultural production."
World Bee Day 2023, with the theme "Bee engaged in pollinator-friendly agricultural production," highlights the significance of protecting bees and other pollinators, particularly through evidence-based agricultural production practices. It also calls for global action to support pollinator-friendly agricultural production.
For the sustainability of ecosystems and the availability of food, bees and other pollinators are essential. They ensure the production of wholesome food and assist in maintaining biodiversity. However, due to reduced availability to food and nesting locations, inappropriate pesticide usage, exposure to hazardous chemicals, and weakened immune systems, intense monoculture farming poses a major threat to pollinators.
Why 20th May was chosen for World Bee Day?
The date of this observance was chosen, as it was the birth anniversary of Anton Janša, a pioneer of modern apiculture. Janša came from a family of beekeepers in Slovenia, where beekeeping has a long history of being an important agricultural practice.
In May, bees and nature grow abundantly in the northern hemisphere and while the southern hemisphere enters in the autumn when the harvesting of bee products and honey and honey products season starts.
How we all are depend on the survival of Bees?
Nowadays, we all rely on pollinators, so monitoring their decline and stop biodiversity loss can be critical. The threat from human activities has been rising among the bees and other pollinators such as butterflies, bats, and hummingbirds. Nevertheless, pollination is a vital mechanism for our ecosystems' survival. Nearly 90% of the world 's wild flowering species of plants entirely depend, or at least partly, on animal pollination, together with over 75% of the world's food crops and 35% of the world's agricultural land. Pollinators not only contribute directly to food security, but they are also a key to biodiversity conservation.
Bees are threatening, Present extinction rates of the organism due to human impact are 100 to 1,000 times higher than average Almost 35% of the pollinators of invertebrates, especially in bees and butterflies and some 17% of the pollinators of the vertebrate, such as bats, are globally extinct.
The Convention on Biological Diversity is a priority for conservation and sustainable use of pollinators, acknowledging the dimensions of the pollination crisis and its connections between biodiversity and human livelihoods. In 2000, a cross-cutting initiative for the sustainable use of pollinators in agriculture and related ecosystem was set up (COP decision V/5 Section II) at the Fifth Conference of the Parties (COP V).
The Food Agriculture Organization (FAO) provides technical assistance to nations with the issues ranging from queen breeding to artificial insemination, also sustainable approaches for honey production and export marketing in the combination with coordination of the International Pollinator Initiative (IPI).
Celebrations
The third international commemoration will be held virtually this year because of the Covid-19 outbreak. As the organizer of the event, the FAO has titled the event as 'Bee Engaged,' through which they want to highlight the importance of the participation and activities of countries and organizations, science and education agencies, civil society, the private sector, farmers, beekeepers and individuals in protecting bees and other pollinators.
Swikriti Dandotia