My First Trip to Kashmir -Part I
This trip was done in the year 2009 but I am writing it in 2019 approx. after 10 years, still, I remember every moment of it.
Lets Start…
My 3rd-semester exam dates were announced by the university in the night yesterday, so I called my friends to have a quick discussion on how to pass the 3rd semester with minimum backlogs.Finally, we all decided to meet up at our usual place known as "TPL". It's an I HK rented room where three migrants Thakur, pachori and Laheriya live together.
I started packing my college bag and went to TPL. The distance was around 4-5km from my home and I usually prefer to go by walk. Although I had a bike its been too risky to go there with the bike as chances are high someone can ask my bike for their personal stuff and return it without filling petrol.
Finally, I reached my final destination and all my group study friends were there. So, let me introduce you to the remaining migrants. Apart from TPL, we had Ashish, Jagjit, Hukum and Mr.Avijit in our study group. So were seven together including me.
Discussion started finally about the subjects, exams, Practical's, sessional, numerical,SQLs all of these words sound very new to us like we are hearing them after a long time and everyone was confused like what to do …
But all of a sudden one voice came out of now where asking- What we are going to do after giving exams? Are we going to follow the same routine Go to hometown, eat, sleep and repeat for 15 days?
Now everyone's focus was shifted to after exam discussion which now looks more important than this semester exam shit.
None of us had the idea where to go, what to plan and that too within a budget. Goa thought never came up in any of us mind and we still don't know the reason. Suddenly I started suggesting some random places in the north just to keep the momentum going on otherwise anytime we could have back to our semester talks.
Ashish initiated his advice like we should choose those places where our parents can easily agree and they shouldn't think like we are overspending their limited income. And actually, he was correct we need someone to finance our trip. We were backing on a 1 % probability that our family would be agreeing to send us on a weekly outing to just enjoy. So, we had to be very careful in choosing the destination.
Finally, I announced one name to everyone – Let us go to "Katra- Mata Vaishnodevi Temple", I mean that's the only far place I went since my childhood so I suggested it. I got the mixed reactions from the guys as they were planning for some adventurous location, but it turned out to be a religious one.
Laheriya ji told me that its too far and his parents wouldn't be agreeing to send their only son that far. I told that this is the only place where our parents can agree to send us. Ashish curiously asked me what so special about this place.
I told everyone this is one of the famous religious places in India and if we tell our parents that we are going to seek blessings of Mata Vaishnodevi for our future placements in big MNCs they might give us permission. I can see all faces, somewhere genuinely convinced and somewhere looking convinced to go for "Jai Mata Di". We all thought that taking blessings might not actually a bad idea as we all need it desperately after looking back on our previous semester results. Jagjit came up with one additional place to be added to the itinerary and that was Amritsar Golden Temple, immediately we agreed upon as it will add more weight to our case.
So finally Katra was confirmed but what to do in Katra for 6-7 Days that nobody was clear, and then Pachori came with an idea that we can go to Kashmir from Katra. I was just thinking- to convince parents for Katra itself is challenging and this guy is suggesting to go Kashmir. Thakur promptly asked how can we go from katra is there any direct train available to Kashmir. Pachori told Thakur that we can query in Jammu station is there any train to Srinagar. Now we are confused about Kashmir and Srinagar, was not sure where to go. Finally thanks to Mr. Avijit he sorted the issue, He told we have to go to Srinagar and its nearby places which are altogether known as Kashmir. Actually, Mr avijit elder brother recently went to patnitop so he was having some basic knowledge about the Jammu and Kashmir. For us, He was like even one out among all odds.
We all now started to dream about snow and mountains which suddenly looks possible to reach there. Since we are now clear about our destination, we all want to make sure that no one ditches it at the last moment. The only idea we came up with let's book the Train ticket right now to Jammu. But without permission of parents, it was not possible, immediately everyone dialled numbers to their home to take permission and we executed our plan so nicely in front of parents that not a single request got rejected. Religious touch to this adventure trip worked well and we all were able to convince our parents that too with a budget of 5000 per person.
We among collected the booking amount and straight went to the railway station reservation counter to book the tickets. At that time IRCTC was not in demand, passengers usually prefer window reservation ticket.
So, we all met for exam Preparation and ended up preparing an itinerary for the Kashmir trip.
Some images of our Trip.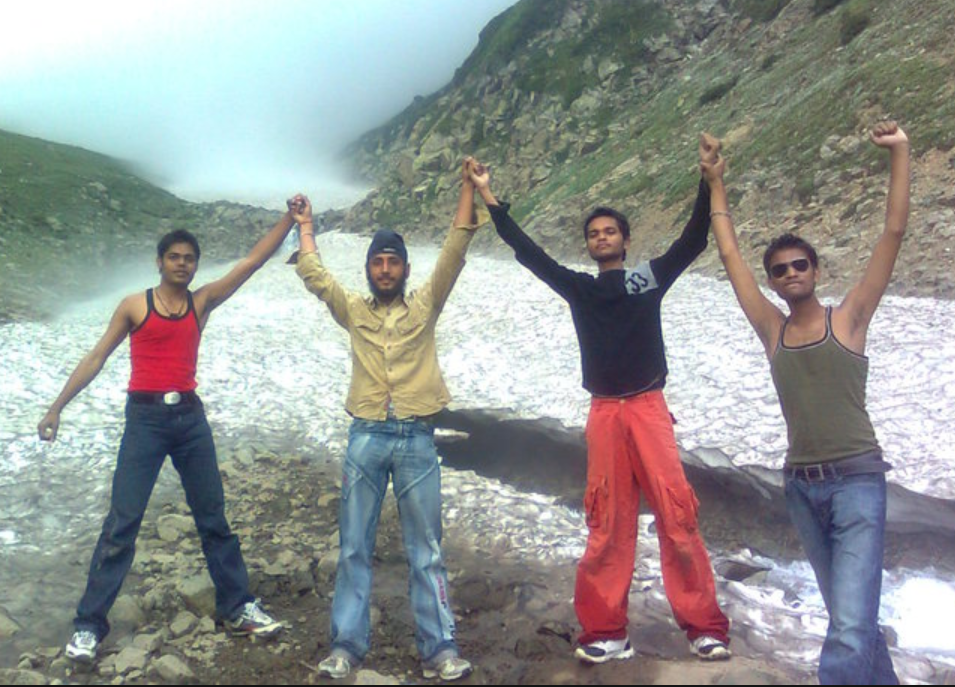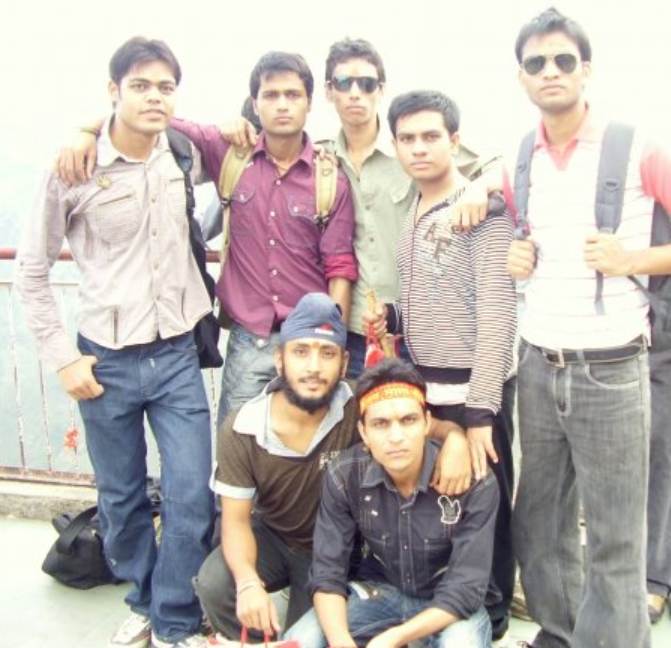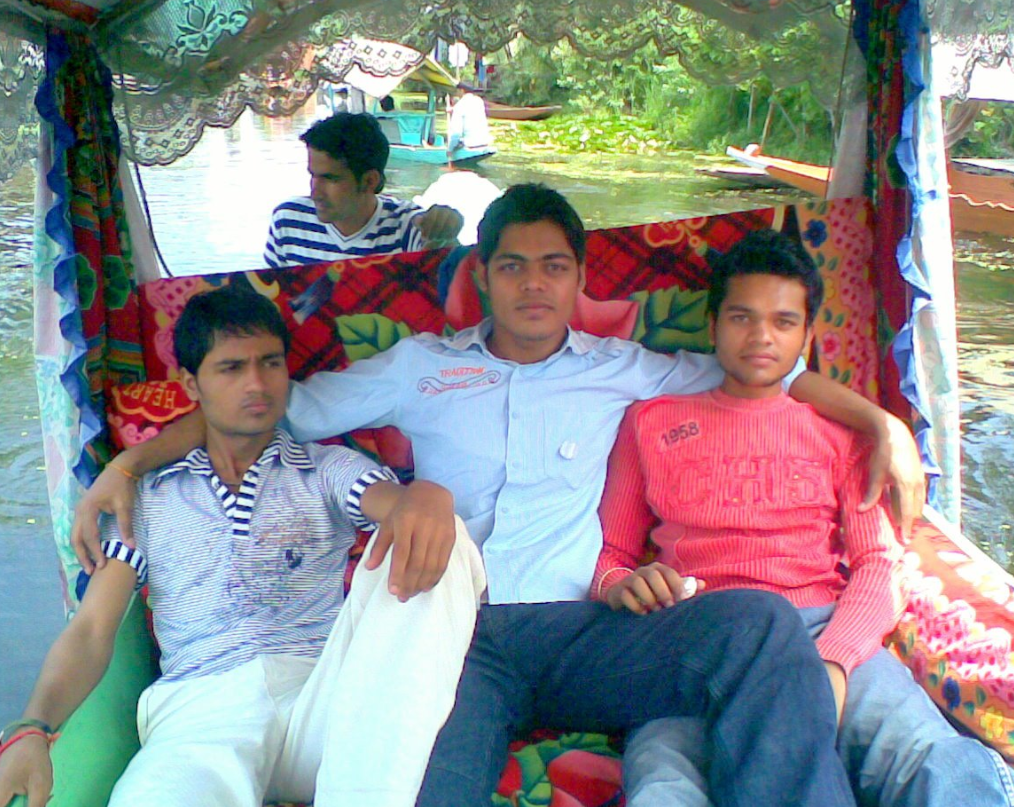 To be continued in Part 2…