World Malaria Day 25th April 2023 Theme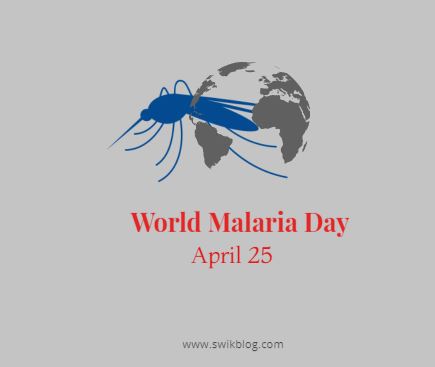 World Malaria Day is an international observance awareness day celebrated every 25th of April which highlights the global efforts to end, control and eradicate Malaria. The world has made remarkable progress since 2000, saving millions of lives against malaria. Yet half the world remains in danger of this preventable disease, a treatable disease that every two minutes cost a child's life.
World Malaria Day (WMD) is one of the eight official global public health campaigns which is marked by the World Health Organization. Globally, around 3.3 billion people across 106 countries are at risk of malaria. In 2012, Malaria was reported to have 627,000 deaths, mainly in African children. It has also affected Asia, Latin America, but a lesser extent to the Middle East and some parts of Europe.
This Day is an opportunity to highlight the need for increased investment and sustained political engagement to prevent and manage malaria.
World Malaria Day 2023 Theme
This year the theme of World Malaria Day 2023 is "Time to deliver zero malaria: invest innovate implement"
The theme for World Malaria Day in 2023 is "Time to deliver zero malaria: invest, innovate, implement." The third "i" of this topic, implement, will be the focus of WHO's attention. It will emphasize how crucial it is to reach marginalized communities using the current instruments and approaches.
In extending access to malaria services for those most at risk, governments have made modest progress, according to the most recent World Malaria Report. Too many individuals at high risk for malaria, however, continue to be denied access to the services required for the diagnosis, prevention, and treatment of the illness.
In especially in sub-Saharan Africa, the ongoing COVID-19 epidemic, convergent humanitarian crises, constrained finance, shoddy surveillance systems, and declining efficacy of key malaria-fighting equipment have made it more difficult to increase access to services.
If there are country leadership and collective action is taken then the suffering and death of Malaria can be radically reduced. Between 2000 and 2014, there were 40 % worldwide decreases in malaria-related deaths from an estimated 743,000 to 446,000.
In 2018, according to the statistics, 27 countries reported less than 100 malaria cases, up from 17 countries in 2010. In the last two years, four countries – Algeria, Argentina, Paraguay, and Uzbekistan – have been declared by the WHO free of malaria, and 38 countries and territories worldwide have reached the milestone.
Yet the progress has ground to a standstill in recent years. According to the World Malaria Report 2019 of the WHO, there have been no global advances in raising new infections over the 2014 to 2018 period. However, in 2018 about as many people died from malaria as in the previous year.
History of World Malaria Day
In May 2007, the World Malaria Day was established by the 60th session of the World Health Assembly through WHO decision. This day was established to make people aware of the knowledge of malaria through education and understanding. Also, to spread yearlong information about the control strategies which include community-based strategies for malaria prevention and treatment. In 2008, the first World Malaria Day was celebrated.
Before the establishment of WMD, Africa Malaria Day was celebrated every 25th of April. Africa Malaria Day started in 2001; just one year after 44 malaria-endemic countries signed the landmark Abuja Declaration at the African Malaria Summit.
Facts about Malaria Day
In 2018, approx. 405,000 malaria deaths were estimated.
Worldwide there were 226 millions of cases reported in 2018.
In 2018, it resulted in about 67 % (272 000) of all malaria deaths worldwide. The most vulnerable group affected is the children under the age of five.
Malaria is a preventable and curable life-threatening disease which is caused by the bites of infected female anopheles mosquitoes that are transmitted to humans.
A relatively high proportion of global malaria risks is in the WHO African Region. 93% of the malaria cases and 94% of the deaths in 2018 occurred in the area.
Swikriti Dandotia