National Youth Day 2024 – Theme and Quotes
"You have to grow from the inside out. None can teach you, none can make you spiritual. There is no other teacher but your own soul."
This inspirational message was given by Swami Vivekananda for each individual that nobody knows you better than yourself, you are your best teacher.
National Youth Day is celebrated in India every year to guide and motivate the youth of our country to follow the right path and motivate them to face difficulties to achieve success and contribute to the growth of the nation. Our youth can take inspiration from Swamiji's life, he has influenced not only India but western society as well through his ideals and teaching.
Every year on 12th Jan, National Youth Day is celebrated on the occasion of great Swami Vivekanand's Birthday. Since 1985 this event is celebrated in India every year. On the same day in the year 1883, he delivered the famous speech on Hinduism at Parliament of Religions in Chicago which began with the words "Sisters and Brothers of America".
Every year the Ministry of Youth Affairs and Sports organize a National Youth Festival to celebrate the birth anniversary of Swami Vivekananda with the collaboration of Government of India and one of state government.
The festival aims, in the form of a shared forum of their cultural skill, to foster the idea of national integration, a mind of common unity, fraternity, bravery and adventure among the youth. This is achieved through the coordination and the promotion of meetings of youths.
National Youth Festival 2024
The National Youth Festival will be held in the twin cities of Hubballi and Dharwad, according to Karnataka Chief Minister Basavaraj Bommai, and Prime Minister Narendra Modi will serve as the festival's chief guest. More than 7,500 young people from across the nation will take part.

According to K. C. Narayana Gowda, minister of sports and youth empowerment, PM Modi will open the national youth festival on January 12. To plan the event, a powerful steering committee headed by the chief minister Basavaraj Bommai has been established. The department is accepting applications from the general public to design the youth festival's logo, mascot, and theme.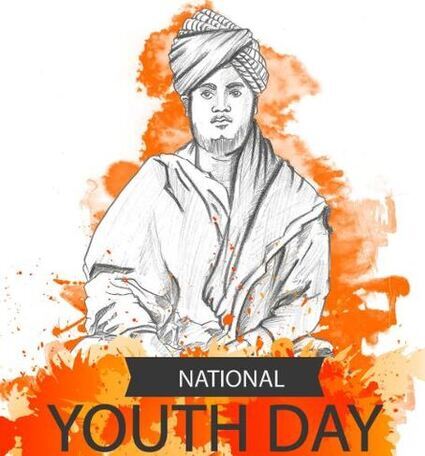 Also Read: My First Trip to Kashmir
Originally, he was the first Indian who wowed the audience in the US through his speech.
His message was loud and clear-
"Help and no fight"
"Assimilation and not Destruction"
"Harmony and Peace and not Dissension"
Philosophy and ideals for which Swami Vivekananda's lived are a great source of inspiration for Indian Youth. Swamiji has introduced the philosophies of Yoga and Vedanta to the western world and played a vital role in giving Hinduism religion a major world religion status.
Inspiration Quotes by Swami Vivekananda and its meanings
1. You can't buy character, it needs to be build
"Neither money pays, not name, nor fame, nor learning; it is CHARACTER that an cleave through adamantine walls of difficulties."
2. Actual definition of Hinduism
"I am proud to belong to a religion which has taught the world tolerance & universal acceptance. we believe not only in universal toleration, but we accept all religions as true."
3. Overcome the fear of weakness and failure
"The greatest sin is to think that you are weak"
4. Power lies within you
"Conquer yourself and the whole universe is yours."
5. God is everywhere
"Where can we go to find GOD if we cannot see him in ours own hearts and in every living being."
6. What you give to others , comes back to you
"Do not hate anybody, because that hatred which comes out from you must, in the long run, come back to you, if you love, that love will come back to you, completing the circle"
7. Trust yourself
"Have faith in yourself — all power is in you. Even the poison of a snake is powerless, if you can firmly deny it."
8. Never underestimate yourself
"Talk to yourself once in a day.. otherwise you may miss meeting an excellent person in this world."
9. Be a Master of your work
"You should work like a master and not as a slave; work incessantly, but do not do a slave's work."
10. Maintain your unique identity
"Learn everything that is good from others, but bring it in, and in your own way adsorb it; do not become others."
National Youth Day celebrations
Youth day is observed all over school, colleges with several competitions like essay writing, debates, quiz contest, etc. The main aim is to draw inspiration from Swamiji's work towards humanity. Also, various outdoor and indoor activities are performed by different states like a marathon which encourages youth to participate in it.
Swikriti Dandotia