Thaipusam(Thai Poosam) Festival 2023-History and Rituals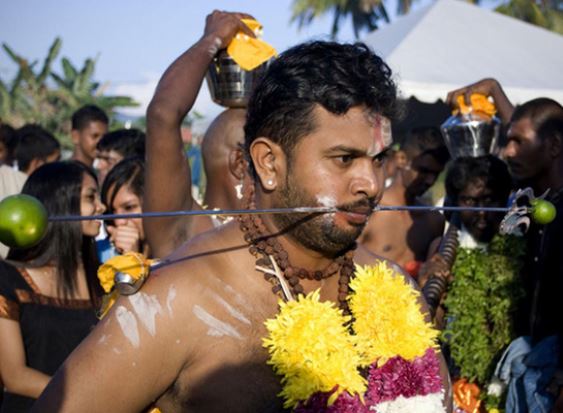 One of the auspicious festivals of the Tamil community observed in many Southeast Asian countries like India, Sri Lanka, Malaysia, Mauritius, Singapore, Thailand, etc. Every year around two million people pay homage to the Lord Murugan. Thaipusam occurs on full moon day in the Tamil month of Thai(January-February) when the moon is at its brightest. It occurs on the day when the moon passes through the star "Pusam" or "Poosam/Pushya". That's the reason Thaipusam's name is derived from two words i.e. Thai(10th month according to the Tamil Almanac) and Name of star Pusam.
Like most of the Hindu festivals which fall on either Full moon day or New moon day, Thaipusam occurs on the full moon day. Thaipusam is either celebrated in January or February depending upon the lunar event.
When is Thaipusam in 2023?
Thaipusam will begin on Sunday 5th February. During this time, the star Pusam is at its highest point.
It is believed that Thaipusam marks the occasion when goddess Parvati gave Murugan ( also known as Kartikeya, son of Parvati and Shiva and brother of Ganesha) a weapon called "Spear" to finish the evil demon Soorapadman(son of asur Vajranaga). It is dedicated to Lord Murugan and celebrated by devotees with prayers, self-mortification across the temples.
How Thaipusam is celebrated?
Many devotees perform Kavadi Dance on the occasion of the Thaipusam festival. It is a form of devotional sacrifice dedicated to Lord Murugan. It is performed with Kavadi Attam which is Long Bamboo stick, suspended with weightless bamboo pails, filled with flowers or other items as vowed by a devotee, at both the ends of the stick. devotee placed it on their shoulder, swinging, and dancing while traveling a long distance on foot.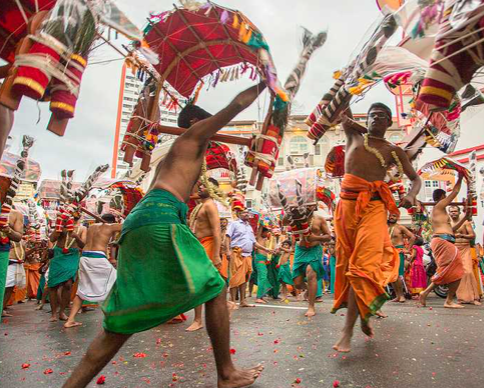 They have faith like worshiping Lord Murugan every year in this manner makes them physically and mentally healthy. Every year during this festival Hindi devotees perform religious rites at Batu Caves in Kuala Lumpur before sunrise.
Rituals practiced during Thaipusam
'Kavadi' is covered with cloth and decorated with feathers of the peacock – the vehicle of Lord Murugan.
Devotees wear yellow and orange, colors significant to Lord Murugan.
Hindu devotees get their cheek pierced with a metal rod to show the sacrifice of speech and some worshipers stab hooks in their backs to pull chariots.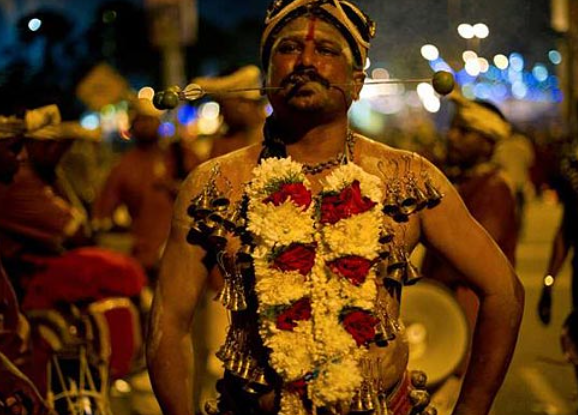 Pilgrims who carry kavadi have to cleanse themselves by celibacy, a special diet, and complete fasting for 48 days. During this period, they must use only cold water for washing.
Dishes prepared during Thaipusam
Chana Dal Payasam
Poha Kheer
Famous Palani Panchamirtham– It served as 'Prasadam'
Panagaam-A healthy and refreshing drink made up of jaggery, imli, ginger.
Where does the most famous Thaipusam celebration happen?
Famous Thaipusam celebration happens at the Batu Caves in Gombak District, Selangor. Here caves are made up of three primary cellars with a few smaller caveats. Visitors must climb 272 steps up to the opening of the cave to reach the top cellar.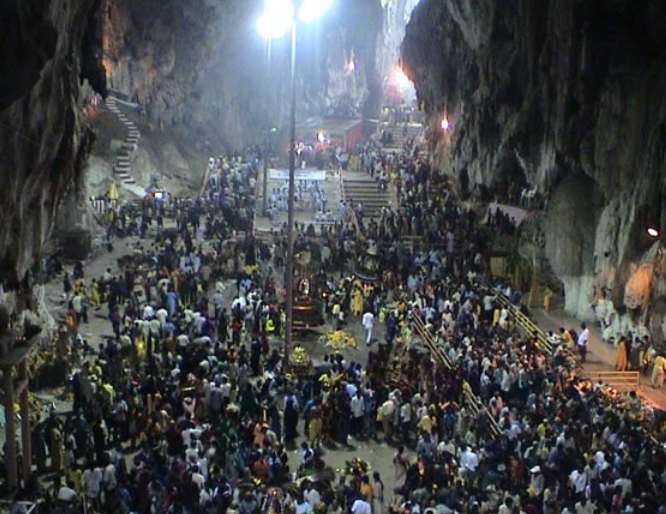 While the cave remains open throughout the year, but its tourist profile reaches its height during Thaipusam, as more than one million people crowd gathered to witness the procession at Batu Caves. Just to the right of caves, there is 140 feet tall golden statue of Lord Murugan.
At Palani temple located in Tamil Nadu, every year large number of devotees gather to worship Lord Murugan on the occasion of Thai-Pusam.
Swikriti Dandotia