International Albinism Awareness Day (13th June) 2020 Theme
Every year on the 13th of June, International Albinism Awareness Day is celebrated. It is the day to celebrate the human rights of the person born with albinism and aims to raise awareness and understanding of this genetic state. It's an effort on the part of the United Nations to stop brutalities against albinism people.
On 18 December 2014, the General Assembly of the United Nations passed a resolution recognizing 13 June as the International Albinism Awareness Day. This historic resolution has confirmed the worldwide emphasis on the promotion of albinism. On Saturday, June 13, 2020 NOAH (National Organization for Albinism and Hypopigmentation) is working together with the global albinism community to promote awareness of albinism.
What is Albinism?
According to the national health institutes, the albinism is a rare disease characterized by the lack of melanin pigment in the skin, hair, and eyes. One in twenty thousand people worldwide have albinism. In parts of Africa, the disease is most prevalent. In South Africa albinism occurs about one in four people. In Tanzania, one in 1,400 is believed to be genetically modified. In almost all forms of albinism, the gene has to be transmitted to both parents even though they themselves have no albinism. The condition is found in both genders irrespective of ethnicity and in all countries around the world.
Theme of International Albinism Awareness Day 2020
This year the theme of International Albinism Awareness Day 2020 is- "Made to Shine"
This year's theme was chosen to honor the contributions and accomplishments of people worldwide with albinism. People with albinism are still suffering every kind of abuse of human rights in this unprecedented time. They have recently been labeled as "Corona" or "COVID-19" in some nations, in an effort to scapegoat them for the pandemic. It is also an appeal to stand by their challenges in solidarity with people with albinism.
Killing, attacks, bullying, the inhumanity of stigma and discrimination against continue with the people with albinism. However, on this day we are reminded that amid these cruel activities, people with albinism tend to question challenges, obstacles difficulties and resiliently deal with injustices. Today in their struggle to live a life that is free from stigma, discrimination, fear and violence, we stand with people with albinism throughout the world. A world where they are made to shine.
There are various kinds of discrimination against people with albinism worldwide. Albinism remains socially and scientifically deeply misinterpreted. The physical appearance of the people with albinism is frequently the subject of misconceptions and superstitious myths which promote their marginalization and social exclusion which results in form of discrimination and stigma.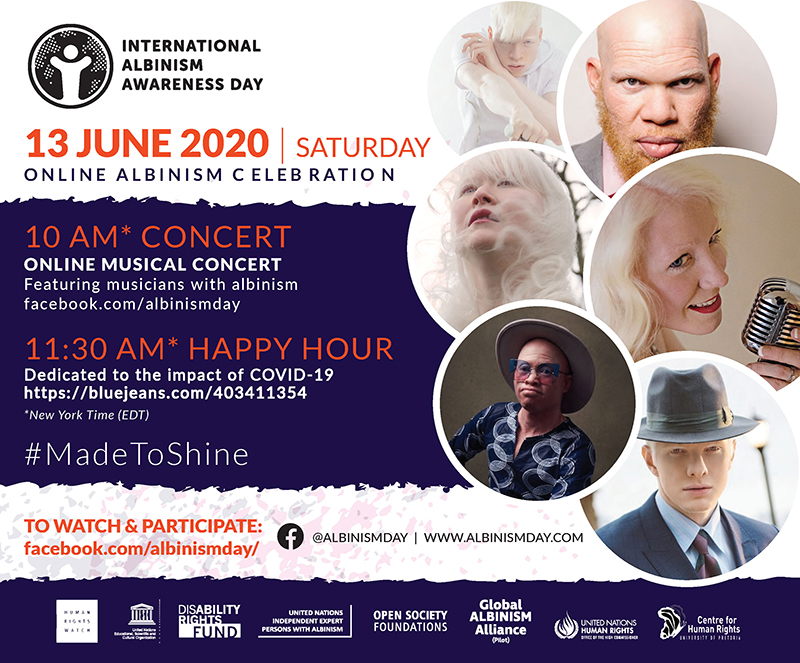 Celebration
On 13th June there will be an online celebration in solidarity with person with albinism worldwide. In morning 10 a.m. there will be an online music concert featuring musicians with albinism.
Swikriti Dandotia