World Oral Health Day 20th March 2023 Theme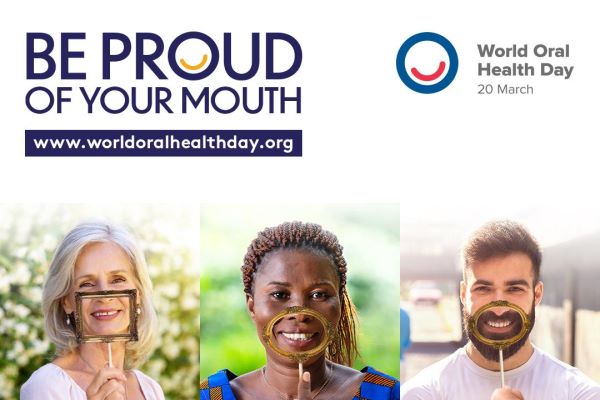 "If you have a healthy mouth then you will have a healthy body, both of them goes hand to hand"
World Oral Health Day is a global awareness campaign celebrated on every 20th March with an aim to spread the message on Oral hygiene and oral health. World Oral Health Day is organized by the FDI World Dental Federation which involves organized campaigns by national dental associations from around the world with the activities in around 130 countries with the Nigerian Dental Association and the National Association of Dental Students of Nigeria.
This day is celebrated to spread the message about the importance of oral health, good hygiene and risk factor management in maintaining general health and well-being. Approx. 90% of the people suffer from oral diseases which can be avoidable. WOHD is a year-long campaign to raise awareness of the issues of oral health and importance of oral hygiene so that the health associations, governments, and general public can take a move to work together to achieve healthier mouths and happier lives
Theme of World Oral Health Day 2023
This year the World Oral Health Day Campaign theme for 2021-2023 is "Be Proud of your Mouth"
Every year World Oral Health Day focuses on specific themes decided by the FDI World Dental Federation to reach out public and show importance about oral health.
This year the FDI will be using the transformative power to pledge and show people how to take care of their mouth and body. On this WOHD, FDI wants everyone to take the pledge to look after their oral health and also to make efforts to reduce the burden of oral hygiene.
History
In 2007, WOHD was first declared and was originally celebrated on the 12th of September which was the birth date of the FDI Founder Dr. Charles Godon. Although the campaign was not fully activated until 2013. The date was changed to 20th March to avoid conflicts with the FDI World Dental Congress which took place in September. On 20th March 2013, World Oral Health Day was launched by FDI World Dental Federation.
Why the 20th date was chosen?
This date was chosen to reflect that–
The senior citizen must have at least 20 natural teeth at the end of their life which is also considered to be healthy.
Children must have 20 baby teeth.
In Healthy adults there must be a total of 32 teeth with 0 dental cavities and express on a numerical basis it can be translated as 3/20 hence 20th march.
Why World Oral Health Day is Celebrated?
Many people suffer from oral disease in their lives and these conditions can be avoided by raising awareness. Also, to support and providing funding for the prevention, detection, and treatment program. The FDI encourages all the members of National Dental Associations, organizations- government and non-government, media to participate in national and global activities to promote and improve oral health.
How to get involved in World Oral Health Day Celebrations?
The individuals can take action to roll out World Oral Health Day in each and every country. To celebrate WOHD encourage people to participate to take action to improve the oral health of the global population. Organizing events with posters to aware people of oral health.
Swikriti Dandotia