World Ocean Day 8th June 2023 Theme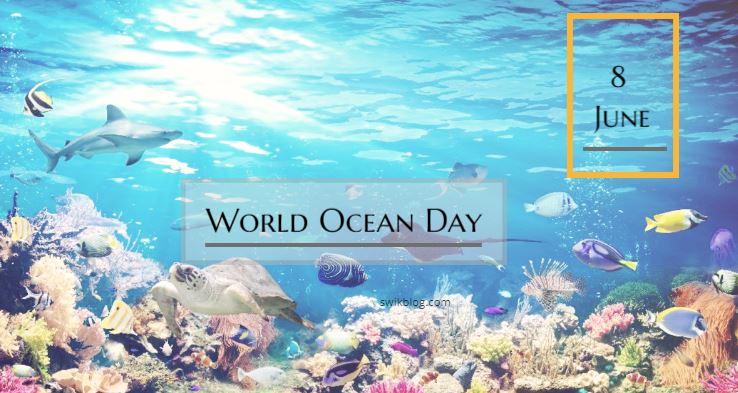 World Ocean Day is a global awareness event celebrated on every 8th of June since 2009. This day is an opportunity to highlight the role of oceans in our everyday life and also to take action to protect our ocean and the sustainable use of marine resources. In 1992, the idea of World Oceans Day was first introduced in Rio de Janeiro at the Earth Summit as a way to commemorate our world's common ocean and our intimate connection with the oceans and to increase awareness about the vital role played by the ocean in our lives and how important people can help to preserve it.
Our oceans occupy three quarters of the earth's surface. It holds 97% of the earth's water and also represents 99% planet's living space by volume. The oceans are our planet's lungs; they provide breathing oxygen, an essential food and medical supply and a vital part of the biosphere and it is our responsibility to prevent our oceans and sub marines from the global warming.
On 5th December 2008, the United Nations General Assembly designated 8 June as World Ocean Day under the resolution 63/111. The concept was proposed In order to raise awareness of the role that UN and international law should play in the sustainable development and use of the oceans and their living and non-living resources, the UN Ocean Affairs and Sea Law Division is actively planning numerous events for World Oceans Day.
Theme for World Ocean Day 2023
This year the theme of World Oceans Day 2023 is- Planet Ocean: Tides Are Changing
The celebration for Ocean Affairs and the Law of the Sea, Office of Legal Affairs, is hosted by the United Nations Division and produced in collaboration with the organization Oceanic Global.
Importance of World Ocean Day
World Oceans Day serves as a reminder to everyone of the importance of the oceans in our daily lives. They are the planet's lungs, a key source of food and medicine, and an essential component of the ecosystem.
The goal of this day is to educate the public about the impact of human activities on the ocean, grow the global movement of ocean people and organize and unite the global community in a sustainable global ocean management project. They constitute a major source of food, medicinal supply and a core element of the biosphere and at the end of the day, the elegance, prosperity and hope of the ocean will be celebrated.
Oceans are the largest protein source in the world and more than 3 billion people are the main source of protein, depending on the oceans. For the livelihood, more than 3 billion people rely on marine and coastal biodiversity. Our oceans consume about 30% of human-generated carbon dioxide, tamping up global warming impacts.
Swikriti Dandotia