Hanuman Jayanti 2023- Date, Significance and Celebration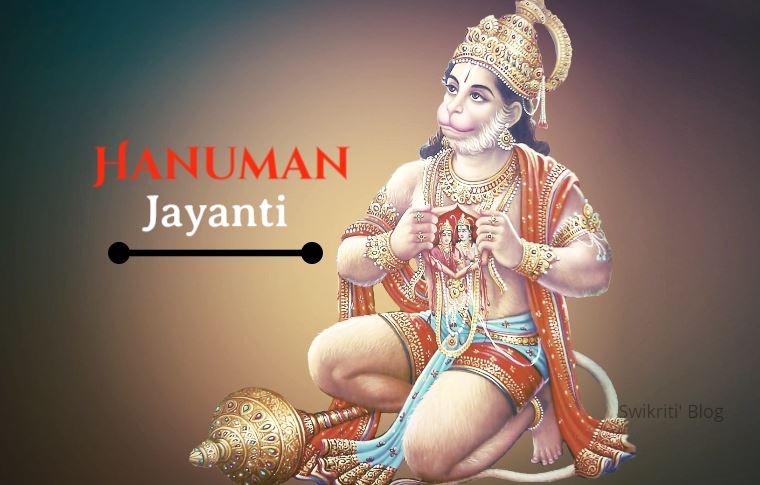 "Siyavar ramchandra ki jay pawansut hanuman ki jay"
"सियावर रामचंद्र की जय, पवनसुत हनुमान की जय !"
Hanuman Jayanti is the celebration of the auspicious birth of Lord Hanuman, a faithful devotee and eternal follower of Lord Shri Ram Chandra Ji. This day is celebrated throughout India and Nepal. The festival is observed in most states of India either in Chaitra (usually on Chaitra Poornima day) or in Vaishakha, although in few states like Kerala and Tamil Nadu it is celebrated in Dhanu (called Margazhi in Tamil)
Date of Hanuman Jayanti 2023
This year Hanuman Jayanti 2023 will fall on 6th April , Thursday
Significance of Hanuman Jayanti
Hanuman Jayanti or Hanuman Janma Utsav is one of the important Hindu festivals. People worship Lord Hanuman as a deity with the ability to achieve victory over evil and to provide protection. Lord Hanuman was born in Anjaneri mountain, son of Anjana who was an apsara born on earth because of the curse. She was saved from this curse after giving birth to lord hanuman.
According to Valmiki Ramayana, it states that his father Kesari was Brihaspati's son and he was the King of a place called Sumeru. Devout to their devotion, Shiva gave them the son they sought. Hanuman, in another view, is the incarnation or representation of Shiva himself.
In India, most of the Vaishnava temples are dedicated to Lord Hanuman in all the temples there is a shrine dedicated to him. On this day the devotees of Lord Hanuman celebrate his birth by seeking protection and blessings. People visit the temple to worship him by offering flowers and Prashad.
According to legend, when Lord Hanuman noticed that goddess Sita was applying sindhur to her forehead, he asked her, and she answered that this would ensure a long life for her husband, Lord Sri Rama. After that Lord Hanuman proceed to coat his whole body with sindhur, thus ensuring the life of Lord Rama. That's why Lord Hanuman is always seen in sindhur.
Celebrations
The celebration of Hanuman Jayanti starts in the morning where people visit the temple and perform prayer. To worship him people also recite Hanuman Chalisa and also reading holy scriptures like Ramayana and Mahabharata.
The celebration of Hanuman Jayanti in Tamil Nadu and Kerala takes place on the New Moon Day in the month of Margazhi (Dhanu). In Telangana and Andhra Pradesh, Hanuman Jayanthi is celebrated for 41 days starting at Chaitra Purnima and ending on the tenth day at Krishna Paksha in Vaishaka.
On Hanuman Jayanti all the sadhus observe fasts and perform special puja, patha and anusthane, i.e. Shri Ramcharitmanas akhand path, Srimad Bhagavad Gita patha, Srimad Bhagavad Purana patha, Srimad Vishnu Purana patha and abhishek to Lord Vishnu along the path of Vishnu Sahasranama, Ram Nam mantra ashtjam.
Swikriti Dandotia