List of Various Government Schemes of India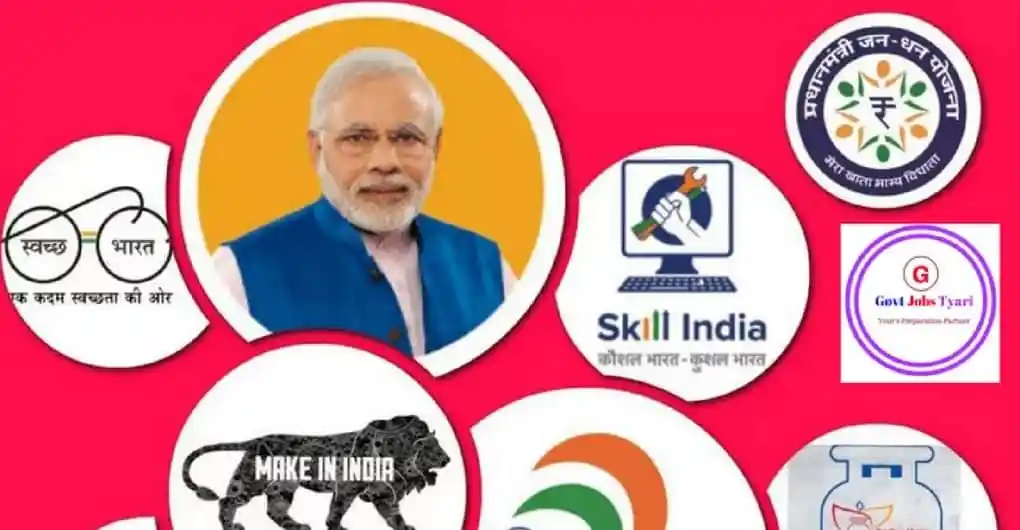 Being a growing country, India has implemented a number of government programs for the benefit of its population. These programs seek to bridge the wealth and poverty gaps while uplifting members of various societal groups.
India's government initiatives are intended to improve the lives of its people and advance the nation. These programs have significantly lowered poverty and encouraged growth while also raising the standard of living for people from a variety of backgrounds.
Following are a some of the various government programs in India launched by Prime Minister Narendra Modi
YEAR 2014
1 Pradhan Mantri Jan Dhan Yojana (PMJDY)– launched in 2014, intends to promote financial inclusion to every household in the country by giving access to banking services, credit, insurance, and pensions.
2. Swachh Bharat Abhiyan: Introduced in 2014, this initiative seeks to encourage cleanliness and hygiene throughout the nation. The plan intends to construct public toilets, end open defecation, and encourage good sanitation habits.
YEAR 2015
1. Digital India: Established in 2015, Digital India aspires to make India a knowledge economy and society that is enabled by technology. The plan covers projects like building digital infrastructure, promoting digital literacy, and offering services online.
2. The Atal Pension Yojana (APY): which was introduced in 2015, aims to offer pensions to employees in the unorganized sector. The program's main goal is to give newly hired employees who don't currently have a formal pension plan a defined pension.
3. Pradhan Mantri Awas Yojana (PMAY): Established in 2015, (PMAY) program seeks to give all citizens access to affordable housing by 2022. The program offers incentives and subsidies to individuals and families for the building and acquisition of homes.
4. Beti Bachao Beti Padhao Yojana (BBBPY): The 2015 launch of Beti Bachao Beti Padhao (BBBP) aims to raise the status of girls in the nation. The program's main goals are to encourage girls' education and welfare and lessen the incidence of female foeticides.
YEAR 2016
1. Pradhan Mantri Fasal Bima Yojana (PMFBY): which was launched in 2016, intends to provide crop insurance coverage and financial assistance to farmers in the event of agricultural damage caused by natural calamities such as droughts, floods, and pests.
2. Start-Up India: established in 2016, seeks to encourage innovation and entrepreneurship throughout the nation. The program offers start-ups a variety of incentives, including money, financial exemptions, and support for incubation.
YEAR 2017
1. Pradhan Mantri Matru Vandana Yojana (PMMVY): established in 2017, intends to give money to expectant moms and nursing mothers. For their first live birth, the program offers lactating moms and pregnant women financial incentives.
YEAR 2018
1. Ayushman Bharat: Pradhan Mantri Jan Arogya Yojana (PMJAY): Launched by the Government of India in 2018, Ayushman Bharat aims to provide free healthcare coverage of up to INR 5 lakh per family per year for the bottom 40% of the population, approximately 500 million individuals. The scheme covers hospitalization and critical illnesses.
YEAR 2019
1 Pradhan Mantri Kisan Samman Nidhi (PM-KISAN): introduced in 2019, offers income support to small and marginal farmers with cultivable land up to two hectares at a rate of INR 6,000 per year. The program aims to support farmers financially and advance agricultural growth.
Note: There are many more schemes launched by Prime Minister Narendra Modi which are listed in the government official Website.