World Day for Safety and Health at Work 2020
The International Labour Organization celebrates World Day for Safety and Health at Work to encourage the prevention of workplace accidents and diseases. It is an awareness-raising initiative designed to focus international attention on emerging developments in occupational health and safety and the extent of work-related accidents, illnesses, and casualties worldwide. The World Day for Safety and Health at Work is celebrated annually on the 28th of April.
28 April is also the International Day of Commemoration for Dead and injured Workers which the trade union movement has organized around the world since 1996. As a result of workplace injuries or work-related illnesses, 6,300 people die every day – there are over 2.3 million deaths annually. There are millions of job-related injuries per year, many of which result in prolonged work shortages.
It is up to each of us to stop casualties at the workplace. We, as governments, are responsible for ensuring that the infrastructure — rules and services — necessary to keep the workforce employable and businesses flourish; this requires the implementation of national policies and programs and an inspection framework for the enforcement of occupational health and safety laws and policies.
Theme for World Day for Safety and Health at Work 2020
This year during Pandemic the World Day for Safety and Health of Workers 2020 theme will focus on "Stop the pandemic: Safety and health at work can save lives." The World Day for Safety and Health at Work will concentrate on combating the epidemic of infectious diseases at work especially during the COVID-19 pandemic. It is the day to recognize the great challenge that our governments, employers, staff, and communities around the world are facing in fighting the COVID-19 pandemic.
The growing number of COVID-19 infections in some parts of the world are becoming concerned and the possibility of decreasing rates in other parts of the world. To protect Safety and Health at work during the combat of COVID -19, the governments, employers, staff, and their unions are facing immense difficulties.
In 2003, the International Labour Organization (ILO) started observing the World Day for Safety and Health at work to promote the prevention of industrial injuries and diseases, capitalizing on the common forces of tripartism and social debate.
The goal of World Day for Safety and Health at Work is to promote a tripartite national dialogue on health and safety at work. The ILO has used this day to raise awareness about the adoption of healthy workplace policies and the position that occupational health and safety (OSH) programs have. It will also concentrate on mid to long-term, including recovery and future preparedness, in particular incorporating interventions into national and enterprise-level OSH management structures and policies.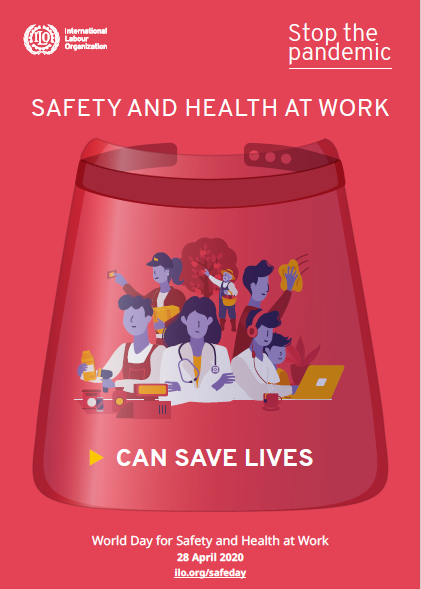 What are the new emerging risks at work?
Technological innovation or social or organization-based change can result in new and emerging employment risks such as:
New technologies and processes of development, for example nanotechnology, biotechnology
Modern working conditions, for instance, higher workloads, reduction work intensification, weak migration conditions, employment in the informal economy.
Emerging jobs, e.g. self-employment, outsourcing, temporary contracts
Swikriti Dandotia