Makar Sankranti 14th January 2023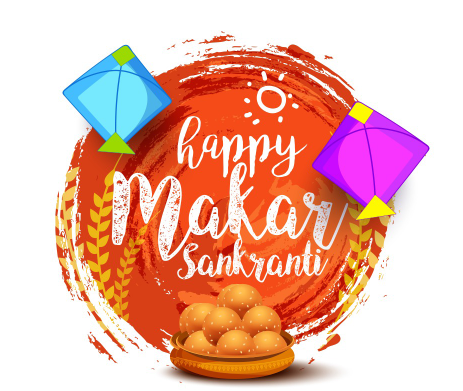 Makar Sankranti or Maghi or simply Sankranthi, is a hindu festival celebrated in the month of January, devoted to the Deity Surya in the Hindu calendar. It is observed each year on the lunar month of Magha which is according to Gorgerin Calendrer marks the month of January when the people of India and Nepal celebrate their planting. It is the first day of the transit of the sun into Makara rashi (Capricorn), marking the end of the month with the solstice of winter and the beginning of longer days.
There is much uncertainty about when the Makar Sankranti festival will be held. Some people celebrate Makar Sankranti on 15 January, while some celebrate it on 14 January. This year Makar Sankranti will be celebrated on 14 January.
Makar Sankranti's celebrated among the Hindus and the Sikhs; Sukarat in central India; Thai Pongal in Tamil Nadu; Ghughuti in Uttarakhand, Makara Sankranti in Odisha; Karnataka, Maharashtra; Goa; West Bengal; and other names such as Maghe Sankranti, Nepal; Magh Bihu, Assam; Maghi (preceded by Lohri) in Punjaab, Haryana and Himachaal Pradesh.
Significance of Makar Sankranti
Every year the month of January marks the winter solstice which celebrated as Makar Sankranti. It is also one of the widely held Hindu festivals in India and Nepal that are celebrated differently in various cultures. However, most of the people fly colourful kites on the day of Makar Sankranti to show their traditions. The Vedic text, particularly the Gayatri Mantra, which is the sacred Hindu hymn found in his reading, the Rigveda, can be defined as this significance of Surya.
According to the scriptures, Dakshinayan (northern side) is a symbol of negative energies and Uttarayan (southern side) is a symbol of positive energies. Since the sun begins his way towards north on this day, people take holy dip, chanting mantras, etc. in Ganga, Godavari, Krishna or the Yamuna River.
Mythological History of Makar Sankranti
According to mythological beliefs, Lord Vishnu killed the devils on Earth on the day of Makar Sankranti, cutting off and throwing them into the Mountains of Mandara. God's victory is celebrated on Makar Sankranti. It is the time when the season changes and the autumn effect begin to subside and then the spring season begins to come. This makes the day long and the night short. On Makar Sankranti's day Suryadev goes to his son Shani Dev,
Swikriti Dandotia