World Day for Audiovisual Heritage 27th October 2022 Theme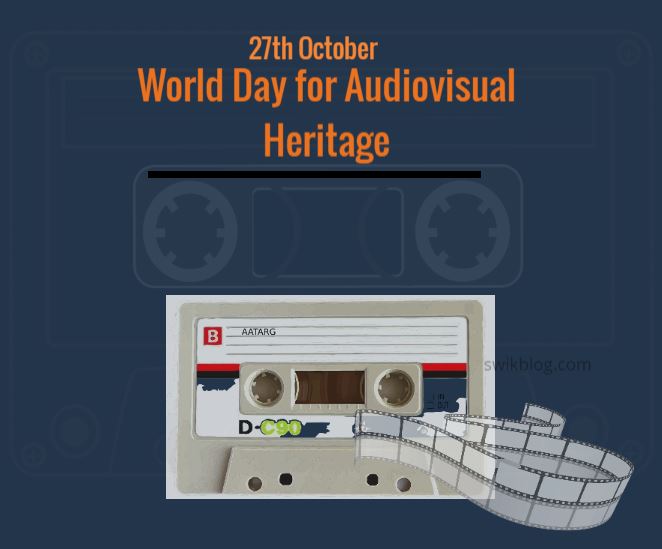 Every 27 October is observed as the World Day for Audiovisual Heritage. The commemoration day was selected by UNESCO in 2005 to sensitise and preserve the importance of recorded sound and audiovisual documents (films, sound and video recordings, television and radio programmes).
On this day, audiovisual archives around the world come together every year to celebrate their work with activities that not only highlight the vulnerability of these precious artefacts, but also to celebrate the frequently unparalleled work of organisations offering security and preservation to ensure their future availability.
The World Day also offers an opportunity for Member States of UNESCO to assess their success with regard to the implementation of the 2015 Guideline on the Protection and Access of Documentary Heritage, Including in Digital Form. As a symbol of our common heritage and memory, the WDAH fulfils the constitutional mandate of UNESCO to facilitate the "free flow of ideas through word and image." In doing so, the day highlights the role of heritage in the creation of peace defense in the minds of citizens.
World Day for Audiovisual Heritage 2022 Theme
This year the theme of World Day for Audiovisual Heritage 2022 is "Enlisting documentary heritage to promote inclusive, just and peaceful societies"
The 30th anniversary of the Memory of the World Program will coincide with the 2022 World Day for Audiovisual Heritage celebration. The celebration's theme is "Enlisting documentary heritage to promote inclusive, just, and peaceful societies" and it will run from October 27 to November 5, 2022.
Documentary legacy, as a resource for information, is suited to both the "basic freedoms" component of SDG 16's Target of 16.10 and the 2030 Agenda for Sustainable Development's "public access to information" component. While the issue of guaranteeing widespread access to documentary heritage continues to be a fundamental concern with regard to the celebration's theme, there is a strong emphasis on how documentary heritage can be used to create inclusive, just, and peaceful communities.
Audiovisual recordings tell stories from all over the world about people's lives and cultures. As they reflect the cultural, social and linguistic diversity of our cultures, they represent a priceless heritage that is an affirmation of our collective memory and a valuable source of knowledge. They help us to build and appreciate the world that we all share. Conserving and preserving this heritage is important for all memorial institutions as well as for the general public as a priority for public and future generations. With this objective in mind, the UNESCO Archives has launched the project 'Digitizing our common UNESCO history'.
Under the 33 C / Resolution 53 the UNESCO General Conference adopted under the 33rd session to declare 27 October as the World Day for Audiovisual Heritage, in commemoration of the adoption, by the 21st session of the General Conference in 1980, of the Recommendation for the Protection and Preservation of Moving Pictures.
Swikriti Dandotia