World Statistics Day 20th October 2020 Theme
This year 20th October 2020 will be celebrated as the third World Statistics Day. The day is created to celebrate the statistics and celebrated in every 5 years. Recognizing that the output of accurate, timely statistics and country progress indicators is essential for informed policy decisions and for monitoring the implementation of the Millennium Development Goals under the Resolution 64/267 adopted by the United Nations General Assembly on 3 June 2010 by officially designating 20th ss October 2010 as the first ever World Statistics Day.
The United Nations General Assembly adopted a resolution on 3 June 2015 and proclaimed the second World Statistics Day on 20 October 2015 and decided to observe the day on 20 October in every five years.
Theme of World Statistics Day 2020
The theme of third World Statistics Day is – "Connecting the world with data we can trust".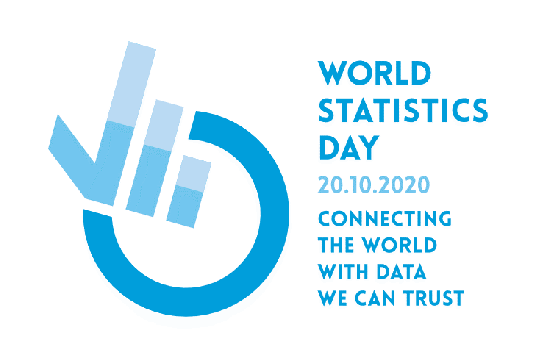 This year's theme demonstrates the value for national statistical structures of confidence, authoritative data, creativity and the public good. The World Statistics Day 2020 celebration is a global joint initiative coordinated under the leadership of the Statistical Commission of the United Nations.
The Statistics Division of the Department of Economic Affairs of the United Nations is the global coordinator of the initiative which  identify the  key global messages and make it accessible through this website with an outreach services to the countries and other partners. This day is all  about connecting the world with data that we can trust and also to highlight the link between statisticians worldwide.
The day also celebrates the right to information and promotes recognition of technological investments that can support the process of data collection. The value of timely and accurate data ensures that no one is neglected to help address and solve problems such as education, climate change and social needs by policy makers.
"Economic and social growth relies on the statistics. They create public dialogue and enable our nations to progress. They are important for academic research and business and civil society growth. Ultimately, figures represent everyone in society.
Swikriti Dandotia