Top 7 Richest people in the World 2022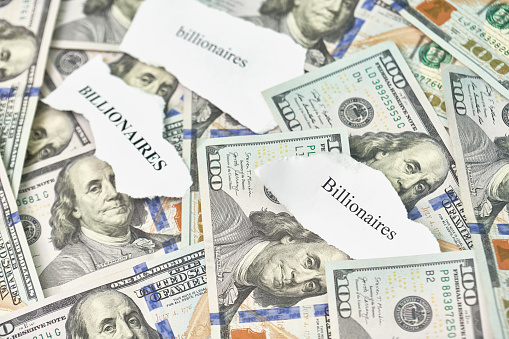 As Said- "The only thing I like about rich people is their money." ― Nancy Astor the Viscountess Astor
In 2022, there are about 2,755 billionaires in the globe, based on data compiled by Forbes. Most of these wealthy people are the pioneers of successful IT companies. The majority of their money is held in the form of publicly traded equities in these companies. As a result, the wealth of the world's richest people is susceptible to swings in line with shifts in market expectations. Forbes' real-time Billionaire Index as of June 2022 yielded the following list of the top 10 richest people in the planet.
In terms of the world's economy, politics, and philanthropy, billionaires have an outsized impact. People like Elon Musk, Jeff Bezos, and Bill Gates have earned wealth that most of us can only dream about.
"If you don't find a way to make money while sleeping, then you'll work until you die"
So here is the list of top richest people in the world listed under Forbes 2022
#1 Elon Musk- $219 billion
With a reported wealth of $219 billion, Elon Musk is the richest man in the world. He is the CEO and co-founder of Tesla, and as of February 2022, and the world's richest man thanks to his success in the technological industry. It's estimated that the overall worth of his 17.1% interest in this company is $153 billion. A remarkable $215.6 billion, including interests in space exploration technology worth $40.3 billion, private assets worth $40.3 billion, and $3.9 billion in cash, make up his total wealth. When Tesla's stock increased by 340 percent in 2020, Musk's fortune skyrocketed. In December of 2020, Tesla surpassed all of its competitors and made it onto the S&P 500 list.
The board at Twitter decided to sell the firm to Musk for $44 billion. Elon Musk purchased a 9.2 percent passive holding in Twitter on April 25, 2022.
#2 Jeff Bezoz- $171 Billion (Executive Chairman of Amazon)
Bezos started Amazon in 1994, making him the world's richest person at the time. After beginning as a bookseller, Amazon expanded into other industries in the early 2000s. In July 2021, he gave up his position as CEO to become executive chairman. Bezos sold and handed away Amazon shares worth $8.8 billion in 2021. He now owns around 10% of the company's stock. Other Assets: Blue Origin ($9.15 billion private asset), The Washington Post ($250 million private asset), and $14.9 billion in cash
#3. Bernard Arnault – $136 billion
Bernard Arnault, a French native, serves as chairman and chief executive officer of LVMH, the largest luxury goods firm in the world. In addition to Louis Vuitton and Hennessey, LVMH also owns the Marc Jacobs and Sephora cosmetics lines.
A large portion of Arnault's fortune derives from his ownership of Christian Dior SE, the holding company that owns 41.3% of LVMH. His holding company, Groupe Familial Arnault, also owns 6.2 percent of LVMH and a majority stake in Christian Dior SE.
#4 Bill Gates- $122.4 Billion
Bill Gates has a net worth of $122.4 billion in 2022, putting him in fourth position on the list of the world's wealthiest people. The Gates Foundation is the largest private donor to the World Health Organization, having received an estimated $35.8 billion in shares from Gates. It is estimated that the value of his 1.3% stake in Microsoft is $30.8 billion. Along with his $55.3 billion in liquid assets, he also possesses $55.9 billion in public and private assets held by Cascade Investment LLC. Cascade's private holdings are dispersed throughout several different industries and companies, including Deere, Republic Services, Canadian National Railway, and a variety of energy and real estate ventures.
#5 Warren Buffett- $114 billion
Warren Buffett, the most well-known value investor alive today, reported income from a paper route on his first tax return in 1944. In 1962, he made his first investment in Berkshire Hathaway, a textile firm, and by 1965, he had amassed the majority of the company's shares. In 1967, he expanded the company's focus to include insurance and other financial products. As of May 5, 2022, a single share of Berkshire Hathaway stock (Class A shares) was trading at more than $481,000, giving the business a market valuation of $705 billion.
#6 Gautam Adani & Family
The founder of the Adani Group, Gautam Adani, overtook Muktesh Ambani as Asia's wealthiest individual in March of 2022. Adani holds significant shares in six large Indian enterprises through his holding company, Adani Group. These include a 75% interest in Adani Enterprises, a 65% stake in Adani Power and a 61% stake in Adani Transmissions, a 37% stake in Adani Green Energy, and a 33% stake in Adani Total Gas.
#7 Larry Page– $103 billion
Larry Page, like many of the other tech millionaires on our list, got his start in a college dorm room. Page and his buddy Sergey Brin developed the concept for Google in 1995 while they were both students at Stanford University. The trio invented a new search engine technology they nicknamed "Backrub," named for its capacity to examine "backing connections." After that, in 1998, Page and Brin established Google, with Page as CEO until 2001 and again from 2011 to 2019.
Note: The Information has been taken from digital media.
Swikriti