World Day to Combat Desertification and Drought Day 17th June 2022 Theme
The World Day to Combat Desertification and Drought is a United Nations observance celebrated on every 17th of June with an aim to raise awareness about the desertification and droughts and also to promote solutions to desertification reduction and drought recovery. It also aims to make the dry lands issue more visible on the international environmental agenda.
On 30 January 1995, after the day when UN Convention to combat Desertification is drawn up and after that the United Nations General Assembly proclaimed World Day to Combat Desertification and Drought under the resolution A/RES/49/115. The day is a unique moment to remind us that neutrality in land degradation can be accomplished by problem-solving, active participation of the community and collaboration at all levels.
The degradation of land in arid, semi-arid, and dry sub humid regions is known as desertification. It is primarily caused by human activity and climate variations. Desertification is not about expanding existing deserts. t occurs because dryland ecosystems are extremely vulnerable to overexploitation and inappropriate land use, covering over one third of the world's land area. The productivity of the land can be undermined by poverty , political instability, deforestation, overgrazing and irrigation.
Theme of World Day to Combat Desertification and Drought 2022
This year the theme of World Day to Combat Desertification and Drought 2022 is- Rising up from drought together
Drought is one of the most deadly natural calamities, with widespread crop failure, wildfires, and water stress all contributing to the death toll. Droughts are becoming more often and severe, exacerbated by land degradation and climate change, with 55 million people affected each year. Droughts are expected to affect three-quarters of the world's population by 2050. It's a global and pressing problem.
Spain to host World Desertification and Drought Day 2022
The global commemoration of Desertification and Drought Day this year will be held in Madrid, Spain. Spain is prone to drought, water scarcity, and climate change-related effects. The Spanish government is at the forefront of these issues and is willing to share its best practices.
"Drought isn't only about a lack of rain; it's also about land degradation and climate change." We can overcome its terrible impacts on people and wildlife all across the world if we work together, and we can begin preparing immediately to drought-proof our future."
Key Messages
Droughts have always been a part of nature and the human experience, but they have become considerably worse in recent years, owing mostly to human activities.
Drought affects almost every country, yet all countries may improve their drought preparedness.
Drought is frightening because of the terrible impact it has on people's lives and livelihoods. It may, however, be tackled successfully with innovation, dedication, and unity.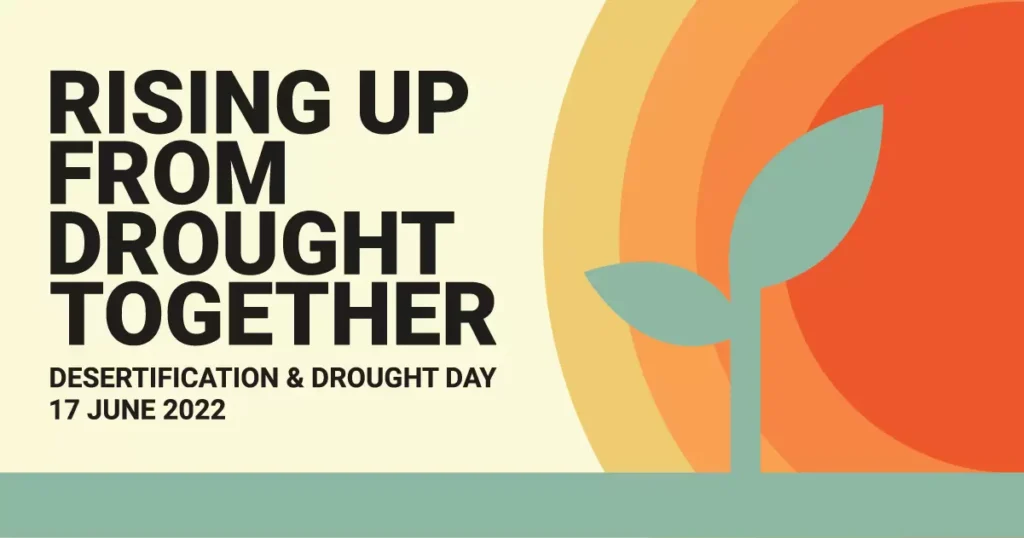 Drought risk assessment tools are available. There are solutions available to ensure that drought no longer takes lives and livelihoods.
Take action on Desertification and Drought Day and beyond this year.
Citizens, corporations, governments, and UN partners can all join forces to assist the world overcome the drought.
Celebration
To celebrate World Day to Combat Desertification and Drought, the UNCCD has produced a series of online activities, an online series on the subject from the YouTube short films and the competition Become # UNCCDLandHeroes, which young applicants propose a specific solution that will reduce the footprint that our production and consumption of food, foodstuffs and fibers leave in the area. In addition, they are invited to participate in this competition and the winner will be announced on 17th of June.
Swikriti Dandotia