National Technology Day 11th May 2023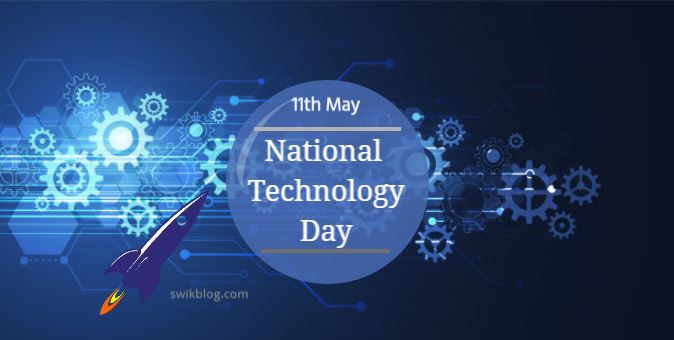 National Technology Day is celebrated annually as a reminder of India's technological achievements. This day marks the anniversary of Pokhran Nuclear Test (Operation Shakti) in 1998, on this day India successfully tested the nuclear missile Shakti-I at the Indian Army's Pokhran Test Range in Rajasthan. Late President Dr. APJ Abdul Kalam headed the action and was renamed Action Shakti or Pokhran-II and two days later as part of operation Shakti India successfully launched two nuclear weapons at the blast. It is observed every year on the 11th of May.
National Technology Day is a way to emphasize the value of science in our everyday life and also encourages young generation to consider it as a career opportunity. National Technology Day was introduced by Late Prime Minister Atal Bihari Vajpayee.
Following that, Prime Minister Atal Bihari Vajpayee declared India as a nuclear state and making it the as the sixth country in the world to join the "nuclear community" nations and the first one that is not the party to the Nuclear Weapons Non-Proliferation Treaty (NPT).
This year there is no specific theme for National Technology 2023, however National Science day 2020 was celebrated with this theme "Women in Science"
Purpose of Celebrating National Technology Day
National Technology Day is celebrated to highlight the importance of science and the groundbreaking achievements. It also marks the scientist and engineers valuable contribution in the field of science and technology. This day also encourages new youngster towards science and make technology filed as a career option.
National Technology Day is far more than the historical event anniversary. As the technology itself is the gateway to the future. It is a day to honour some of our best scientist and innovators progress in transforming science into accessible, practical goods and processes that transform people's lives.
Some important facts about National Technology Day celebration
11th May is an important date as on this day in 1998, the Defense Research and Development Organization (DRDO) carried out the last Trishul missile test-fire. It is a rapid-reaction, short-range, surface-to-air missile. This was later adopted by the Indian Air Force (IAF) and the Indian Army to the security department.
The Trishul missile was a unit within India's Integrated Guided Missile Development Programme IGMDP, which culminated in the development of Prithvi, Akash, and Agni missile systems.
11th May also marks the flight of India's first Indigenous aircraft- Hansa-3, which was flown in Bengaluru when the nuclear tests were being organized in Rajasthan. The National Aerospace Laboratories developed Hansa-3. This was a light-weight, double-seater airplane that is used in sports, pilot training, aerial photography, surveillance and environmental projects at the flying institutes.
Shakti, the Pokhran Nuclear Test, was carried out in May 1974 with the first nuclear test code called 'Smiling Buddha.' The second test was Pokhran II, which was a sequence of five nuclear bomb explosion tests performed by India at the Indian Army's Pokhran Test Range in May 1998. Notably, several major states, including the United States and Japan, have transformed such nuclear tests into various sanctions against India.
Awards on National Technology Day
Every year on National technology Day Awards is given to several innovators and entrepreneurs. The Technology Development Board (TDB) has created a National Award in commemoration of this day. This award is awarded by the President to different individuals and industries for their productive achievement in Indigenous Technology commercialization.
Swikriti Dandotia