Sustainable Gastronomy Day (18th June) 2022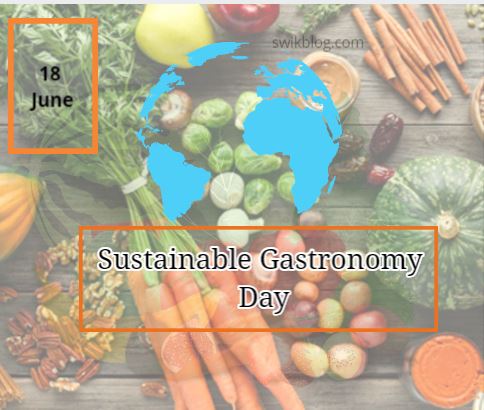 Sustainable Gastronomy Day is a United Nations observance celebrated globally on the 18th of June. This day highlights the need to focus on the role of sustainable gastronomy. It also acknowledges the gastronomy expressions and defines the three-dimension sustainable development: Plant, people, and profit. In the achievement of sustainable development goals, sustainable cuisine will play a significant role by supporting agricultural development, food security, nutrition, sustainable food production and better food choices.
In December 2016, the United Nations General Assembly (UNGA) has adopted a resolution A / RES/71/246 and announced, 18 June 2016 has been announced as the World Sustainable Gastronomy Day.
What is Sustainable Gastronomy?
Gastronomy is termed as food art. The cooking style from a particular region could also refer to gastronomy and in other words, it is referred to like local food and cuisine. The concept of sustainability is that everything (e.g. agriculture, fishing, and even food preparation) is done to ensure that the natural resources are not wasted so that they will survive in the future without damaging our environment or our health.
Therefore, sustainable gastronomy is the cuisine that takes into account where the ingredients come from, how the food is produced, and how it enters our markets and eventually our dishes.
About the UN system how they work for the sustainable gastronomy
In collaboration with the Member States, UN organizations and other foreign and regional bodies, as well as civil society, the United Nations Educational, Scientific and Cultural Organization (UNESCO), the Food and Agriculture Organization and the UN General Assembly will be working to improve public understanding on its co‐operations with the United Nations on Sustainable Gastronomy. It is the key focus of this day's work.
The UNESCO'S initiative includes:
Promoting local restaurants for clean energy (use gas and electricity instead of coal, using natural gas rather than carbon).
The UNESCO Innovative Cities Network for the exchange of best practices was launched in 2004 for the creation of collaborations in seven different fields. In 2020, the Creative Gastronomy Cities is named for 26 cities.
To raise awareness about Sustainable cuisine by culinary and gastronomy shows and agricultural culture shows for the food industry and producers.
As for FAO, the Organization promotes healthy but sustainable green culture diets and suggests that countries with food guidelines should start considering the process of incorporating sustainability.
The "Crop of the Month," is an online program of the FAO, has been encouraging crop diversification in favor of underutilized traditional crops, and adapting sustainable food production and management practices for natural resources.
Purpose of celebrating World Sustainable Gastronomy Day
The purpose is to recognize gastronomy as a cultural practice relating to the world's natural as well as cultural diversity. This further reaffirms the importance of contributing to sustainable development worldwide for all cultures and civilizations.
Sustainable Gastronomy can play a role in achieving the Sustainable Development Goals through its interlinkages with three dimensions of sustainable development by promoting: – food security, nutrition, sustainable food production, agriculture development, and conservation of biodiversity.
Swikriti Dandotia