Ambedkar Jayanti 14th April 2023- History, Facts and Quotes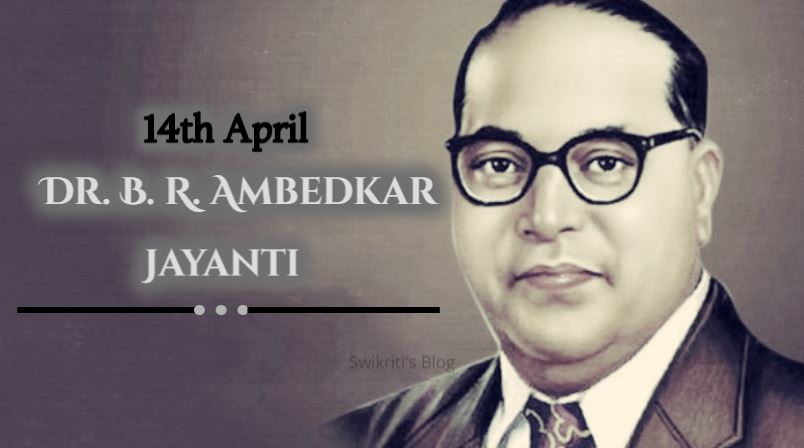 "We are Indians, Firstly and Lastly"-Dr.B.R AMBEDKAR
Dr. Bhimrao Ambedkar Ramji popularly known as Babasaheb Ambedkar was an Indian lawyer, economist, politician and social reformer who influenced the Dalit Buddhist movement and fought against untouchable (Dalits) racial injustice.A well-known politician and distinguished lawyer, his attempts to eliminate social inequalities such as intouchablity and caste restrictions were noteworthy.
Ambedkar Jayanti or Bhim Jayanti is the annual festival which was celebrated for the memory of BR Ambedkar on 14 April 1891 and commemorates Dr BR Ambedkar's birthday. This has been celebrated in India as an official public holiday since 2015. Ambedkar Jayanti is not only celebrated in India, but worldwide. This year nation will observe 132nd anniversary of Babasaheb.
Childhood History of Babasaheb Ambedkar
Bhimrao Ambedkar was born in Mhow Army Cantonment, Central Provinces (Madhya Pradesh) on April 14, 1891. The father of Ambedkar-Ramji was a Subdar of the Indian army, and the family moved to Satara after father's retirement in 1894. Shortly after this, His mother Bhimabai died. His father remarried four years later and the family moved to Bombay. In 1906 , 15 years old Bhimrao married 9 years old Ramabai.His father, died in Bombay in 1912.
Throughout his education, Ambedkar faced caste discrimination stigmas. Hailing from the Hindu Mahar caste, his family was seen as "untouchable" by the upper classes. Discrimination and humiliation have deeply affected Ambedkar at the Army School. Fearing social backlash, teachers would separate lower-class students from Brahmins and other upper-class students. The untouchable students were sometimes asked by the teacher to sit outside the classroom.
B.R Ambedkar Education History
Ambedkar studied at Columbia University and the London School of Economics for his doctorate in economics, and he became a well-known scholar for work in law, economics and political science. He was an economist, a professor and a lawyer in his early life.
Upon coming back from the United States, Ambedkar was named as King of Baroda's Defense Secretary but there also met with embarrassment because he was a "Untouchable."
Fight Against Caste Discrimination
Upon his return to India, Bhimrao Ambedkar vowed to fight his life-long caste prejudice. He called the proposal of Dalits and other religious outcast reservations. By 1927 Ambedkar initiated full-scale Dalit rights movements. He requested free and available public drinking water sources for all castes and entry in temples. He publicly condemned Hindu Scriptures for bigotry and organized symbolic protests for the entry into the Nashik Kalaram Temple.
Facts about Babasaheb Ambedkar
Ambedkar became the first Indian to obtain a PhD in Economics abroad, he is also the first PhD in Economics and the first double PhD in South Asia.
The Indian Reserve Bank was established in accordance with the guidelines provided by Dr. Ambedkar to the Hilton Young Commission (also known as the Royal Commission on Indian Currency and Finance) based on his book, The Problem of the Rupee – Its Origin and Its Solution.
The Mahad Satyagraha (Chavdar Tale Satyagraha) was a satyagraha led by Ambedkar on 20 March 1927, to authorize nontouchables to use water in a public tank in Mahad Maharashtra.
Since it was discriminatory and contrary to the values of unity and dignity of the country, Ambedkar declined to draft Article 370 of the Constitution (which provides the State of Jammu and Kashmir with special status).
In October 1956 he withdrew from the Hindu religion in desperation because of the continuation of the untouchability and became a Buddhist with nearly 200,000 Dalits during the ceremony in Nagpur.
He found the Buddha, Kabir and Phule his Gurus. According to him, intelligence, modesty, morality needs to be worshipped.
Dr. Ambedkar, as Labor leader of the Viceroy's Council from 1942 to 1946, was instrumental of introducing many labor reforms. He introduced the shift in working hours from 12 hours to 8 hours at the 7th Indian Labor Conference in New Delhi in November 1942.
It took B.R Ambedkar 2 years & 11 months to draft the World's Largest Democracy Constitution.
Famous book written by Babasaheb Ambedkar are :
For castehindus, " Annihilation of caste "
To know the origin of caste system, " Castes in India; Their genesis, mechanism and development "
For shudras, " Who were the shudras?"
For Untouchables, " The Untouchables; who were they and why they became Untouchables?"
For Hinduism, " Philosophy of Hinduism "
For Buddhism, " Buddha and his Dhamma"
Some Famous Quotes by Dr. B.R Ambedkar
"Law and Order are the medicine of Body politic and when the body politic gets sick ,medicine must be administered.
"If I find the constitution being misused, I shall be the first to burn it."
"Cultivation of mind should be the ultimate aim of human existence."
"Life should be great rather than long."
"Indifferentism is the worst kind of disease that can affect people."
"Though, I was born a Hindu, I solemnly assure you that I will not die as a Hindu"
"I like the religion that teaches liberty, equality and fraternity."
"Constitution is not a mere lawyers document, it is a vehicle of Life, and its spirit is always the spirit of Age."
"religion is for man and not man for religion"
"A safe army is better than a safe border".
"Dalit aspirations are a breach of peace. Annihilation of Caste is a breach of peace."