International Day of Light 16th May 2023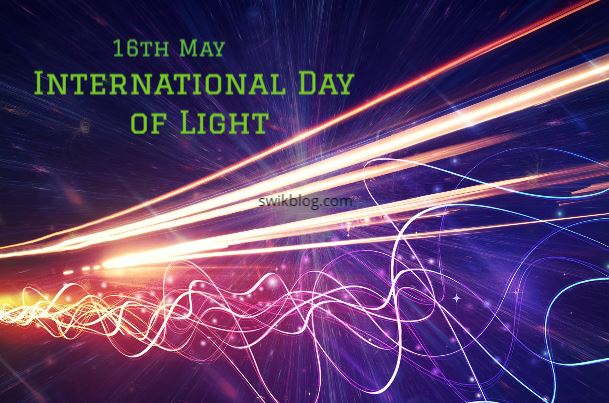 International Day of Light (IDL) is a global event celebrated to highlight the role of light in science, culture, art education, and sustainable developments, also in the field of medicine, communication, and energy. Every year the International Day of Light is held on 16 May, the anniversary of the physicist and engineer Theodore Maiman's first successful laser operation in 1960. This day is a call for strengthening scientific cooperation and harnessing its potential to foster peace and sustainability.
2015 was the International Year of Light and Light-Based Technologies (IYL 2015) was an observance by the United Nations that increased global awareness and value for mankind of light science and its uses. UNESCO leads more than 13,000 events to reach an audience of more than 100 million in 147 countries.
After the massive success of the International Year of Light, it became obvious that the proclamation of International Day of Light will act as a permanent follow-up to the International Year of Light to lift the visibility of science and technology, promote education and increase the quality of life around the world. The first International Day of Light was celebrated in 2018 initiated by UNESCO.
International Day of Light 2023 Message
Trust Science — encourages both scientists and the public alike to sign and support a declaration affirming their trust in science and the importance of public confidence in the scientific process. Now is the time for us all to pledge our support.
Why 16th May is chosen for the International Day of Light?
16th May is the anniversary of the first successful laser operation held in 1960 by the physicist and engineer Theodore Maiman's. The laser is a great example to show how a technological breakthrough in media, education and many other fields can bring groundbreaking benefits for society. Although International Day of Light is not only about laser but it includes art, culture, entertainment, and science.
Goals of International Day of Light
Emphasizes and explains the intimate connection between light and art and culture, and improves the role of optical techniques in preserving cultural heritage.
Improved public understanding, which is essential to the future growth of world society, and also how light and light-based technologies affect everybody's everyday lives.
Recognize that technology and architecture will play a major role in achieving greater energy efficiency, in particular by reducing energy waste and reducing light pollution, which is necessary to maintain the dark skies.
To encourage the value of light technologies as well as the need for access to enhance energy services and also the quality of life in the developing world for sustainable growth.
Highlight the importance of fundamental work in light sciences, the need to invest in light-based technologies in order to create new applications and the global need to encourage careers in science and engineering.
Celebrations
Though there were many activities planned for the celebration of International Day of Light 2023 on 16th May, but due to Pandemic, the scheduled events will not take place. Let us get together to share the importance of light in our lives in these difficult times! Two new ideas for IDL2023 are pleased to be announced:
Celebrate Light on Social Media
Share post on Social media using #IDL2023 and #SeeTheLight with images that show how light influences our lives.
Call for Videos for the International Day of Light
You are invited to upload a video of your learning, celebrating and/or enjoying light. On the 16th of May, the International Light Day Secretariat will pick videos that will be posted on the IDL official social media accounts.
Swikriti Dandotia
​