Kashmiri Herath 2023- Story, Rituals and Celebrations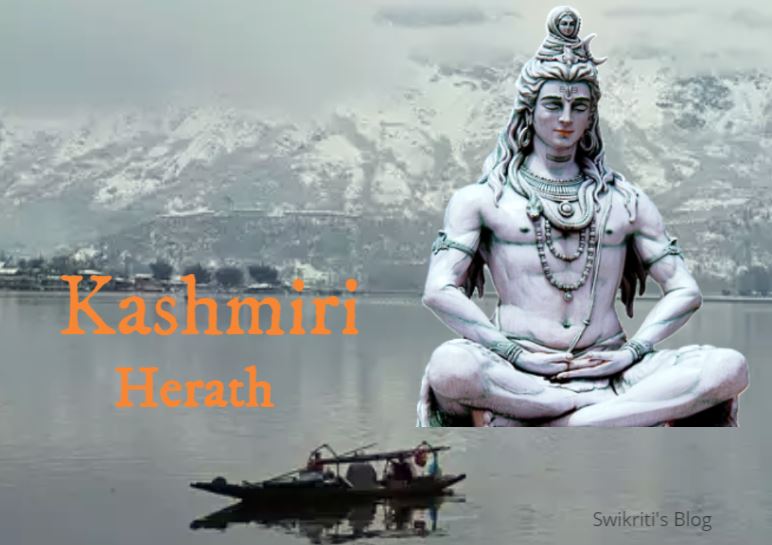 Shivratri (Kashmiris call it Herath) is one of Kashmiri pundits auspicious festivals, celebrated on trayodashi or the 13th of the dark half of the Phalguna month (February-March) and not on chaturdashi or the 14th as celebrated by the rest of the Hindus. The reason is that for one full fortnight it is celebrated as an elaborate ritual associated with the arrival of Bhairava (Shiva) as a jwala-linga or flame linga. Called Kashmiri' Herath', a word derived from the Sanskrit 'Hararatri' the 'Night of Hara' (another name of Shiva), It is said that Lord Shiva called Devi Jagatamba by the name of Hairte on this day that was eventually transformed into Herath.
The Kashmiri Pandits or the Kashmiri Brahmins are part of the larger Saraswat Brahmin community and belong to the Pancha (five) Gauda Brahmana groups in the Kashmir Valley. In the Hindu culture of Kashmir, every girl is believed to be a Parvati and to be wedded to Shiva. The Shivratri is symbolic of the two's union.
This year Herath 2023 celebration will start from 17 February to 18th February and the rest of the Hindus around the world will celebrate Mahashivratri on 18th of February 2023.
Herath Rituals
Before worshipping shiva and shakti ,Rituals start with 'vatuk barun' ceremony which means filling and worshiping the pitcher of water representing the Vatuka Bhairava with walnuts. Vatuk Bhairava is a group of gods, according to Shiva Purana, that are worshipped before Lord Shiva's worship starts.
Story about the faith of Kashmiri Pandits in Shivratri
There is one incident about the faith of Kashmiri pandits in shiv-ratri.It is said that Jabar Khan, the Pathan governor of Kashmir, forbade people from performing Vatak-Puja in Phalgun, and instead ordered them to celebrate it in July. Helplessly, people obeyed the order, but to everyone's surprise (harath) it snowed on that day in July. Since then, the people of Kashmir have recited" Jabar Janda-Haras awu Wandha" (Jabar the rag-man, winter came in July)
How Herath is celebrated by Kashmiri Pandits
How Shivaratri and its rituals are conducted by the Kashmiri Pandits and by Hindus elsewhere in the world varies. On the occasion of Herath , after the Puja ceremony, non-Veg dishes and some Veg dishes are cooked as sacrificial food probably to please 'Bhairavas' and then it is served to whole family and deities. People like Gurtus and Razdans, however, observed strict vegetarianism during the Shiv-ratri festival. This festival also marks the end of winter in the valley.
The prasad of walnuts and rice cakes (tomala-chuut) are also distributed on this occasion.
*While writing this article, information is used from articles written by Mr Ashok Raina.