Rabindranath Tagore Jayanti 9th May 2023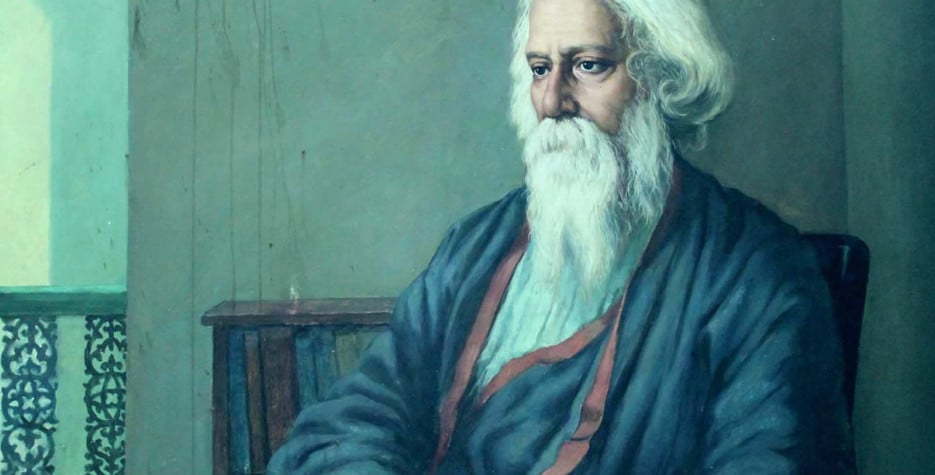 Rabindranath Jayanti or Rabindranath Tagore Jayanti or Rabindra Jayanti is a cultural festival celebrated around the world and mostly among Bengalis in the remembrance of the birth anniversary of Rabindranath Tagore. It is observed in early May on the 25th day of the Bengali month of Boishakh.
Rabindranath Tagore Jayanti 2022 will be celebrated on 9th May.
In Bangladesh, Rabindranath Tagore Jayanti 2023 will be celebrated on 9th May.
Rabindranath Tagore was a popular author of poems and songs to short stories and novels. A multifaceted man, Rabindranath Tagore began writing poems at the age of eight, and when he was 16 only he wrote his first book which a collection of poems under the pseudonym 'Bhanusimha.'
Rabindranath Tagore was the only known person who has written two different countries' national anthems. He wrote "Jana Gana Mana" National anthem of India, and Amar SonarBangla, Bangladesh's national anthem. It is believed that lyrics of Sri Lanka national anthem was inspired by Rabindranath Tagore
In 1913, Rabindranath Tagore won the Nobel Prize for literature. He also emphasized on the concept of sympathy and living for the benefits of others. Tagore established an educational system focused on practical practices, called Shanti Niketan.
Brief History of Rabindranath Tagore
Rabindranath Tagore was born on 7 May 1861 as Robindronath Thakur. He was born into a family that was at the forefront of Renaissance Bengali. The contribution of Rabindranath Tagore to the Bengali field of literature and politics is well known. His poetry, films, songs (called Rabindra sangeet), plays, and novels are still respected and studied in various fields of art. For his contributions to world literature, he was the first non-European to win the Nobel Prize (1913).
His other notable works include, as mention are Gitanjali, Post Master, Kabuliwallah, Nastanirh. His songs, such as Majhe Majhe Tobo, Akash Bhara, Amar Hiyar Majhe, Purano Sei Diner Kotha, and Megher Kole, are still performed by prominent singers throughout Bengal and India.
Some Facts about Rabindranath Tagore
Rabindranath Tagore took up drawing and painting at the age of 60, and held several good exhibitions of his work. His works were influenced by Northern New Ireland scrimshaw, British Columbia Haida carvings and Max Pechstein's woodcuts.
Tagore didn't like formal education too much, and also he was tutored by his elder brother Hemendranath. Later he attended college for one day only.
Tagore and Gandhiji were well known and in fact, Rabindranath Tagore was the one who gave the title "Mahatma"- "the father of the nation".
Rabindranath Tagore chose Shakespeare, Religio Medici, Coriolanus, and Antony and Cleopatra instead of schooling and college for the independent studies.
Tagore also established the renowned University of Visva-Bharati, in Santiniketan, West Bengal. He never believed in classroom teaching. Thus, he introduced the idea that classes should take place among nature, and this tradition is still followed by the university and its students.
Celebration of Rabindranath Jayanti across the world
The birth anniversary of Rabindranath Tagore is celebrated by Bengalis across the world in his memory by organizing number of cultural programs songs and poems all written of Rabindranath Tagore are performed in the college's universities and theatre.
The festival is celebrated in Kolkata as Poncheeshe Boishakh and all cultural events are conducted in Jorasanko Thakurbari (ancestral home of Tagore) and Rabindra Sadan (cultural centre). Shantiniketan also holds grand festivities in Birbhum, West Bengal, to mark her founder's birthday.
Swikriti Dandotia