World Environmental Health Day 26th September 2023 Theme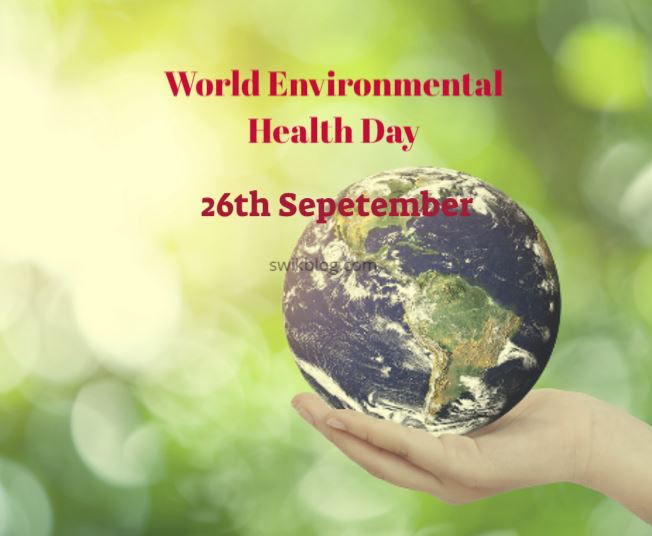 World Environmental Health Day is an annual celebration observed on every 26th of September. The IFEH Council (International Federation for Environmental Health) launched World Environmental Health Day. It promotes environmental health knowledge among the population and cooperation between countries to improve our planet's environment. In 2011, the observance was inaugurated in Indonesia.
World Environmental Health Day discusses all external physical, chemical, and biological influences and their behavioural consequences. It requires the evaluation and monitoring of environmental factors that could have an impact on health. Environmental Health is regarded as non-human health concerns and as environmental causes that can pose a disease-and-illness danger to human health. Poor health is also the product of poor environments and aims to improve living and working conditions by making an enormous difference to the health and welfare of the citizens.
Theme of World Environmental Health Day 2023
This year the theme of World Environmental Health Day 2023 is – Global Environmental Public Health:
Standing up to protect everyone's Health each and every day.
Environmental health, as a branch of public health, holds immense significance due to the multifaceted ways in which external factors influence people's lifestyles and well-being. These factors encompass not only aspects related to our natural surroundings, such as access to clean water and sanitation but also the consequences of human activities.
Citing data from the World Health Organization (2016), global environmental challenges contribute to over 12.6 million annual fatalities. In addition to the aforementioned concerns, factors like soil pollution, ultraviolet radiation, and biodiversity loss play pivotal roles. This data underscores a direct link between environmental health and more than 100 specific illnesses and injuries. Significantly, these issues disproportionately affect marginalized communities already grappling with healthcare disparities.
.The field of environmental health is crucial to achieving these SDGs. Seven of the SDGs, nineteen of the targets, and thirty of the indicators all have some bearing on environmental health, which is an interesting fact.
The Environmental Health Practitioner (EHP) is the gateway to the introduction of disease prevention initiatives. Since the initial reaction to the outbreak of pandemic diseases worldwide, EHPs play a crucial role. EHPs have a role to play in planning for and responding to disasters, investigating and preventing outbreaks of infectious diseases.
Aside from COVID-19 outbreak here are examples of the most recent outbreaks of infectious diseases are: Ebola, cholera, HINI flu pandemic, MERS, sarps, meningitis and other examples according to the WHO.
It is important therefore for our highly qualified EHPs to face the challenges raised by this pandemic of COVID-19 diseases and do all they can to protect our communities. It is an urge to all member and regional organisations, academic partners and national governments to launch activities and events to mark the occasion of the World Environmental Health Day.
The degradation of quality of the atmosphere, air , water, food etc. is important for human survival in day-to-day life, and is caused to many problems, including pollution, greenhouse effects, climate change, urbanization, etc .. The public needs to be informed on how to mitigate environmental health hazards and should take precautionary measures to prevent diseases. In order to improve food safety, sanitation, clean drinking water, indoor and outdoor air quality, people will live healthy lives, there are many governments and private bodies. International environmental health day is celebrated primarily to acknowledge and provide a focal point for these organisations' contributions.
Swikriti Dandotia