Chanderi-Hidden Gem of Madhya Pradesh
Chanderi is a small town nestled in the heart of Madhya Pradesh, surrounded by forest, lakes, hills and the tales of Bundela and Malwa dynasty. Chanderi is a perfect gateway for those who want history, nature, religion and peace. It is a home for Hindus, Muslims, Jains and Adivasis.
Chanderi is spread over an 18 square kilometers and divided into two categories outer and inner Chanderi. Inner Chanderi is a complete package where you will find palaces, mosques, temples and havelis. The most amazing fact is that the Inner Chanderi is encircled with seven fortification walls of Chanderi fort. The outer Chanderi is a hub of weavers (Bunkars) where you will see how they make the Saree s. There is separate colony of weavers which is also called as Bunkar colony.
Though chanderi is small town, but its name is enough to gather tourist attractions. Even bollywood superstar "Aamir Khan" & "Kareena Kapoor" had a halt in Chanderi during the promotion of "3 IDIOTS" and went back with beautiful Chanderi Sarees in their bag!
Also recently two famous movies were shot at Chanderi "STREE" starting with "Shraddha Kapoor & Rajkumar Rao and "SUI DHAGA" starting with "Anushka Sharma &Varun Dhawan"

Tweet on Chanderi:
CHANDERI- hidden gem of Incredible India. Enjoying the weather at chanderi,its the best time to visit chanderi and explore its beauty.#mptoursim #chanderi @MPTourism pic.twitter.com/5ebRNqoIce

— Swikriti (@Swikritimini) September 5, 2018
If you want to find large number of monuments in a small area or region then take out some time and visit Chanderi in Madhya Pradesh. You will be amaze to know that in Chanderi there are approx 375 monuments which you can see but some are antique and very famous and some are not. I have tried to shortlist some of the best monuments for readers.
Koshak Mahal:-
It was constructed by Mehmud shah khilji for celebration of his victory. When you enter in Koshak Mahal you will find that the ceilings of the monument are beautifully designed and the crafting of windows will make you fall in love. Earlier Koshak Mahal was planned to built seven storey but presently it is three storey, it is a palace with no rooms.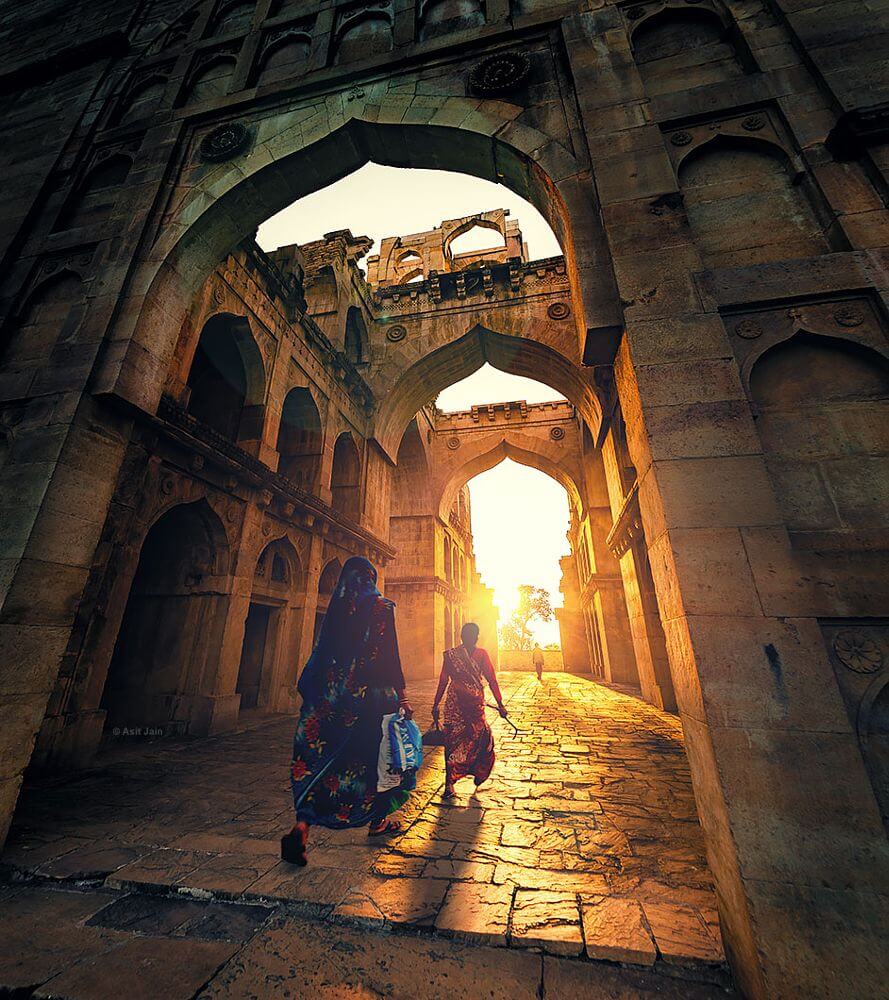 Chanderi Fort:-
Chanderi fort is situated at 71 meters above the city level on hill. It was constructed during the region of mughals. When you will be chanderi fort you will various tourist attractions within the premises which are:- the Khilji Mosque, Hawa Paur, Naukhanda Palace and the tomb of Hazrath Abdul Rahman. This fort has three gates the first gate known as khooni Darwaza and hawa paur is the third and the highest gate of fort. You will enjoy the view from this fort. Chanderi Fort is also known as Kirti Durg.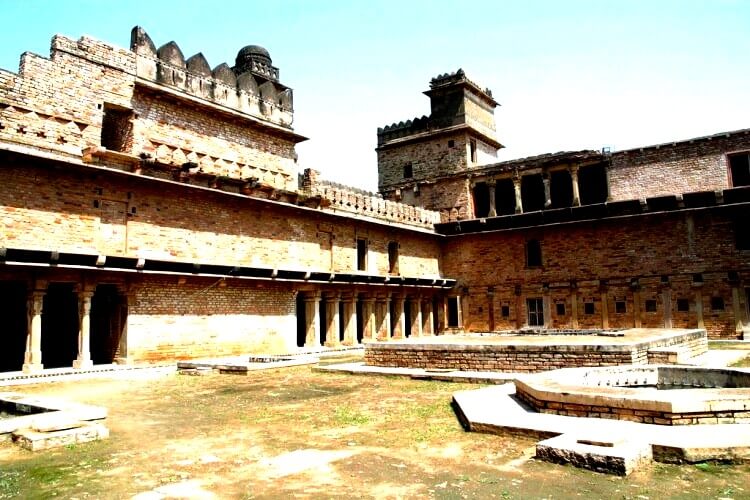 Badal Mahal Gate:-
If you want to visit the famous tourist spot as well as unique then you must go the Badal Mahal Gate. You will not see any palace or mahal in this place but there is one tall gate which is very beautifully crafted with two huge minaar's. You will be amazed by seeing the beautifully designed and crafted gate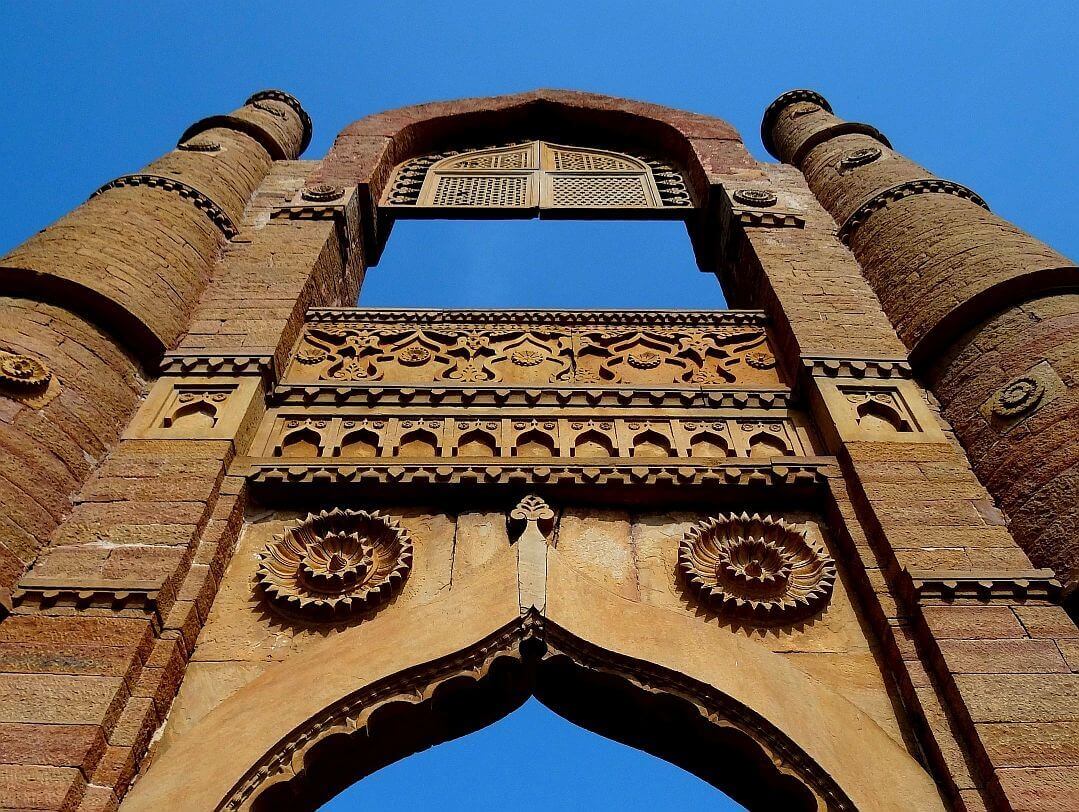 Jageshwari temple:-
It is the most famous temple where your wishes are fulfilled. The idol of this temple goddess jageshwari resides in an open cave. This temple is situated on a hill side and you will enjoy the scenic view of Chanderi. During the festival of Navratri people gathered in large number to seek the blessings of Jageshwari mata.
Jama Masjid:-
It is one of the oldest and the largest Mosque and having a capacity of 2000 people. The design of pillars and walls of mosque was made in very different geometrical pattern. The domes of mosque are built with white marble and the pillars at the entry gate are beautifully carved. You will amaze to know that this is only mosque with no minars.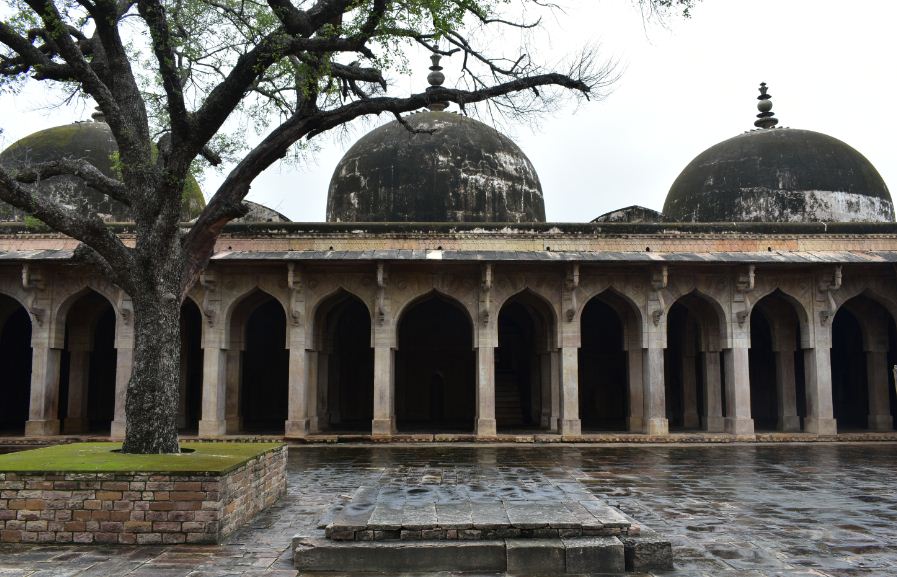 Shahzadi ka Rouza:-
The Shahzadi ka Rouza was built in 15th century by the sultan of Malwa. It is located at the north side of Chanderi. King Hakim Khan had built this Rouza in the memory of his beloved daughter who loved army chief but gone against her father's wish after the death of chief by Kings man, she killed herself.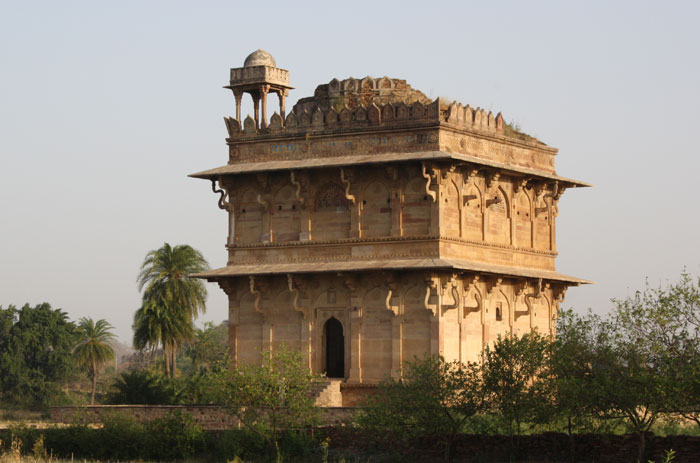 Kati Ghati:-
The Ghati was built after cutting solid Rock by Miman Khan in A.D 1480 during the era of Ghiasuddin Shah of Mandu it is 58m long. Kati Ghati is a gateway for Bundelkhand and Malwa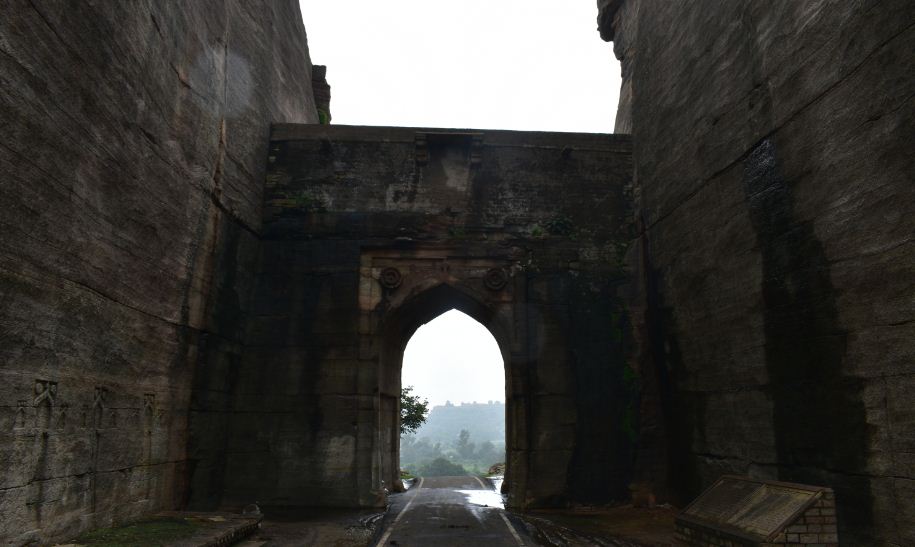 Untouched places of Chanderi:
Bharka Waterfall and Nanaun Rock Painting:-
Earliest imprints of human existence on rocks can be found near Nanaun village along with Aur (Urvashi) river. Here you will find a beautiful waterfall along with Aur River known as Bharka Waterfall. There is a small temple of Hanuman ji and Shiv ji which is seen after the rainy season as it is covered with waterfall during rainfall. At the place during makar sankrat a grand mela (fair) is organized by local villagers.
Behati Temple (Behti Math):-
Behati temple is built in 5th century by Gupta dynasty which is famous for pillar carvings and these constructions are extremely rare. Till now this place is escaped from the attention of tourist and authorities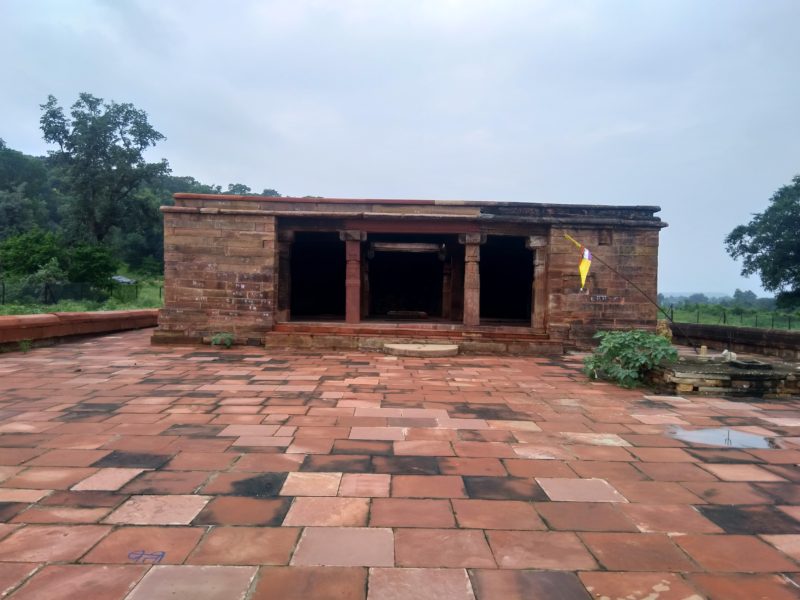 Behti Math Pillar Carving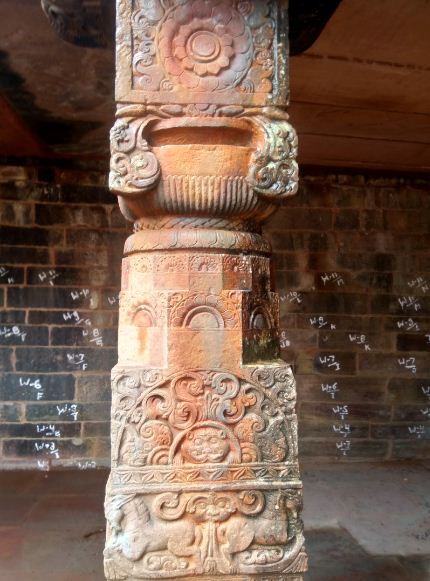 If you want to watch how Chanderi sarees and suits are made you must visit to village pranpur- The Hub of Weavers it is 2km from Chanderi, here you will get amazed to see how weaver make Chanderi materials.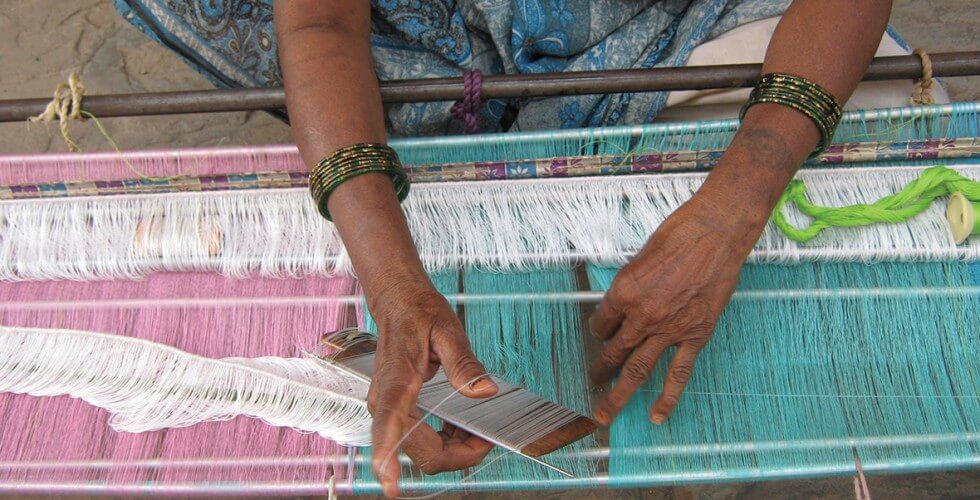 How to Reach:-
Chanderi comes in Ashok Nagar district in Madhya Pradesh, India. Chanderi is 65 kms from Ashok Nagar, 37km from Lalitpur.
For any local help in chanderi reach out to Mr.Neeraj – +91-9827050561
Accomodation:-
You Can stay at MPTourism Resort "TAANA BANA" or "KILA KOTHI" where you will get the royal hospitality along with top view of chanderi town.
Tweet on Kila Kothi:
Kila Kothi is a perfect place to stay where you will get the royal hospitality with a picturesque top view of chanderi town. Earlier it was a PWD Guest house which is now converted into a hotel by MP Tourism. Clicked some pics during my stay.@MPTourism #mptourism #chanderi pic.twitter.com/9fvShGknui

— Swikriti (@Swikritimini) September 7, 2018
—–SWIKRITI