The story of Singapore's Mr.Wong(age 59) who was rescued by the Fijian Marines after spending almost three months alone on Sea
Dreaming of three years of solo sailing across the Pacific, Wong Tetchoong almost became devastating after the borders started closing around the world as a result of COVID-19, leaving him alone at sea for three months.
Trapped on his damaged sailboat alone in the Pacific, with none to port, and his only way to reach his family with a satellite telephone, a three-year Singapore sailor's expédition went wrong in just six weeks after he sailed in February.
On 30 April Wong Tetchoong, age 59, from Singapore was rescued from sea by the Fijian Navy after almost three months alone.
It was an adventure that the 59-year-old seasoned sailor had been carefully preparing for years – from the exact quantity of fuel to the atmosphere of the places he was going to explore.The intention was to sail from Singapore into Polynesia, a four-month voyage on his yacht. While there he would spend time in exploring the area.
Upon leaving Jayapura, Indonesia, alone on the 19th March — his two companions left due to work obligations as planned — he later learned that his destination in neighboring Papua New Guinea had shut down its borders.But a few days later, when he was still in Indonesian waters his auto pilot broke. Mr. Wong thought of a break in Indonesia to fix his boat, but due to the lockdown he couldn't do so to left without a choice just to continue sailing.
Then he chose to live with just 20-30 families on a small, nearby island. There wasn't a phone, no Television, nothing But even families there knew of COVID-19 and Wong was not allowed to land on the island. He came to several other islands, but they pushed him away.Even these tiny islands, unexpectedly, without wifi and television, still felt too intensely the effects of the virus.
It was then that Wong received news that the South Pacific islands were all locked up, but he was already halfway there and just could not turn around. And so he decided to go to Tuvalu.
He tried to enter the port of Tuvalu a further 2000 kilometers away, but he was informed that he could not land.At that time, Mr. Wong was almost a month offshore and his diesel and food supplies were limited. Eventually, he was able to convince the authorities of Tuvalu to let him buy some supplies. He spent US$ 1,400 (S$1.980) on 1,000 liters of diesel and food, and went on his way further.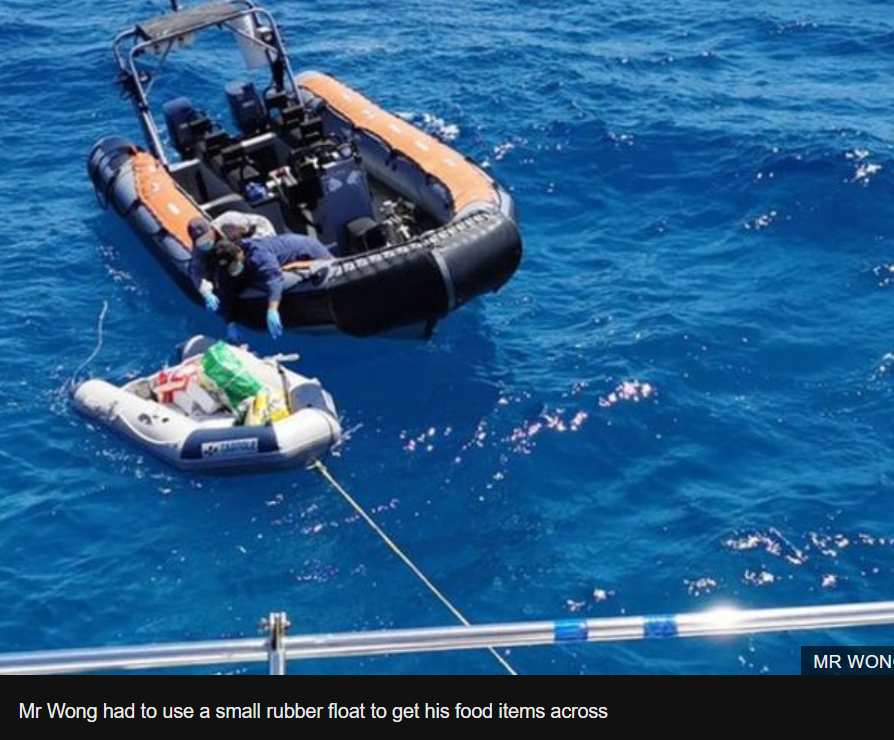 With few options left, Mr. Wong chose to go to Fiji because the Yacht had already been destroyed by the hitting of a coral reef and auto pilot was also faulty.Within those seas, it is difficult to sail alone without the autopilot, within particular when sailors have to use a toilet, cook or sleep.
He called his daughter with a satellite telephone to get assistance from the Singapore Foreign Ministry (MFA) to securing a place to land in Fiji .
He soon got the message that Fiji's government had accepted to take him in. A marine boat was sent out, and he eventually rescued in Fiji on 29 April – nearly three months after roaming around the sea.
Wong has been discharged from hospital after the recovery but he is still in Fiji working on his yacht recovery waiting for the chance to resume his journey.
Story Source: straitstimes