Tiradentes Day 21st April 2023 -History, Facts and Significance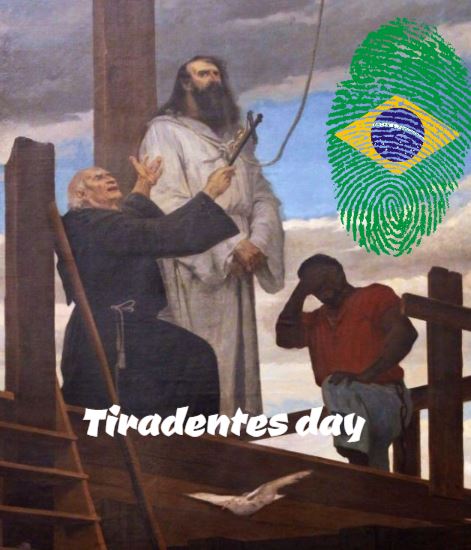 Joaquim José da Silva Xavier was a Brazilian nationalist and activist who organized and led the first major uprising against Portuguese rule in Brazil. He was named as Tiradentes ("Tooth Puller"), one of his professions being dentistry. He was a prominent member of the Brazilian nationalist movement known as Inconfidência Mineira, whose goal was complete independence from Portuguese colonial control and Brazilian republic formation.
The revolt, which was a precursor to the Brazilian struggle for independence, was disrupted by the capture of Silva Xavier and he was executed in 1792. Silva Xavier's nobleness in defense has made him a Brazilian national hero and is seen as a symbol to Latin America's independence.
Joaquim José da Silva Xavier was born on a farm in the São João del Rey district of Pombal, Minas Gerais mining area in 1746 and was executed in Rio de Janeiro in April 21, 1792.
Tiradentes Day is celebrated every year in Brazil on April 21st. This day is a holiday in Brazil to commemorate the hero Tiradentes as he was hanged on April 21,1792.
Silva Xavier's Journey of Revolutionary Movement
Tiradentes used his gained knowledge of minerals as a miner to enter the public service as a land surveyor.He soon joined the Minas Gerais Dragoon Regiment, where he was assigned a detachment command and sent to city missions along "Caminho Novo," a road between Vila Rica (then Minas Gerais capital) and Rio de Janeiro along which gold was sent to the coast, eventually to be exported to Portugal.
His journeys to Rio put him in touch with people who lived in Europe and brought liberal ideas.Tiradentes met José Alvares Maciel, a son of Vila Rica's army commander who had just returned from England, in 1788. Contrasting British economic development with Brazilian colonial misery, both agreed to establish a community of aspiring democracy.
Influenced by Jean-Jacques Rousseau's writings and the American Revolution, Tiradentes joined several like-minded citizens in the revolutionary Inconfidência Mineira. They imagined an independent Brazilian republic, with São João del Rei as its capital, and Vila Rica's conversion to a university town. The proposed new republic flag had a green triangle, surrounded by the Latin motto "Libertas Quae Sera Tamen."
Execution of Tiradentes
Tiradentes' intention was to take to Vila Rica's streets and declare a Brazilian Republic on the day of the derrama, in February 1789, when taxes were due to Portugal and the sense of rebellion among Brazilians would be greater. Joaquim Silvério dos Reis, one of the conspirators, revealed the scheme for tax waiver. Minas Gerais Governor cancelled the derrama and ordered the rebels' prison. He was detained in Rio and hanged on 21 April 1792. His body was then sliced and the parts sent to Vila Rica for show in locations he used to spread his liberal ideas.