World Theatre Day 27th March 2023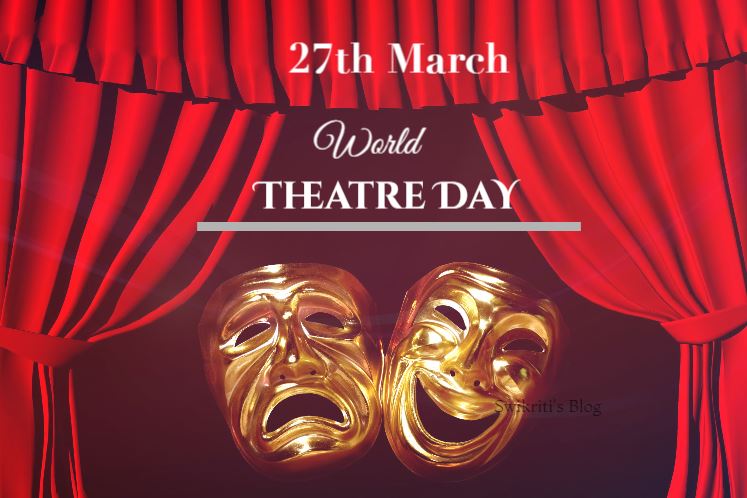 World Theatre Day or World Drama Day is an annual event marked to celebrate the importance of theatre art and to increase awareness about the importance of theatre. The International Theatre Institute ITI initiated World Theatre Day in 1961. ITI Centres and the international theatre group celebrate this day every year on 27th March.
Every year on the occasion of World Theatre Day (Opening date of the' Theater of Nations ' season in Paris in 1962), this day has always been celebrated in many ways by ITI centers in which there are now 90 more than centers around the world. This is also celebrated by theatres, theatre practitioners, theatre enthusiasts, theatre colleges, academies, and schools. This year will mark the 60th anniversary of World Theatre Day
World Theatre Day will celebrate its 60th anniversary in 2022, after been commemorated for 59 years. Through World Theatre Day Messages, 60 major theatre figures have given their opinions on theatre, culture, and peace from 1962 to present. As a result, World Theatre Day is observed around the world to remind people of the immense power that theatre can hold.
This year's World Theatre Day celebration will focus on the youth, the next generation, and new artists, who's been a major focus of ITI in the recent years. ITI hopes to provide a forum for the future generation of artists and art professionals to exchange ideas and showcase themselves to the world through this 60-year-old ITI flagship event.
World Theatre Day is a celebration for those people who understand the value and importance of art form "Theatre" and can act as a wake-up call to the state's leaders and companies and for those who have not yet understood the importance of people also, still not appreciated their economic growth potential.
Goals of World Theatre Day
Should promote theatre art across the world
To aware people of the value of theatre art.
To enable theatre and dance culture to promote and encourage their work on a large scale such that political makers are conscious of and endorse the importance of these forms.
Also, just enjoy the theatre art for their own.
In 1948, the world's largest performing theatre art organization was founded by the dance and theatre experts and UNESCO. The International Theatre Institute supports the objectives of UNESCO "Mutual understanding and peace strengthen the security and promotion of culture.
World Theatre Day was first created by ITI and celebrated on the 27th of March in 1962 for the first time which was the date of opening of the "Theatre of Nations" season in Paris. Since then every year on the 27th of March World Theatre Day is celebrated on a very large scale.
One of the most important acts for the World Theatre Day International Message is circulated through which, at the invitation of the ITI, a person of world prominence shares her or his thoughts on the theme of Theatre and Culture of Peace.
World Theater Day Message Author
Every year on World Theatre Day the Executive Council of ITI seeks out an exemplary theatre personality to write a message for World Theatre Day since 1962. This year the author of the message of World Theatre Day 2023 is Samiha AYOUB (Egyptian Actress) from Egypt. The message is translated in different languages. Jean Cocteau was the first writer for the World Theatre Day International message .
Read : Message for World Theatre Day 2023 by "Samiha AYOUB "
You can also read this message in different Languages.
How to Celebrate World Theatre Day?
World Theatre Day celebrations are open for all, this day can be celebrated by promoting and organizing theatre arts, dance to show the importance of theatre arts. To celebrate World Theatre Day many people and organizations are invited like Theatres, theatre and dance organizations, theatre and performing arts colleges, government departments, ministries of culture, theatre and dance creators and theatre and dance lovers. The members of ITI and cooperating members are asked to promote World Theatre Day by radio press and the internet.
Swikriti Dandotia