Fuite de gaz à Vizag (Inde) de l'usine LG Polymers
Dans les premières heures de jeudi, au moins 8 personnes ont été tuées par une fuite de gaz de l'usine LG Polymers à l'extérieur de Visakhapatnam en Andhra Pradesh. La fuite de gaz styrène a été signalée à 2h30 du matin.
L'incident a déclenché la panique parmi les habitants de la zone de 3 km. Plusieurs personnes ont été vues gisant inconsciemment sur les routes lorsque des problèmes respiratoires ont été rencontrés. Les gens se sont même plaints d'éruptions cutanées sur le corps et les cheveux.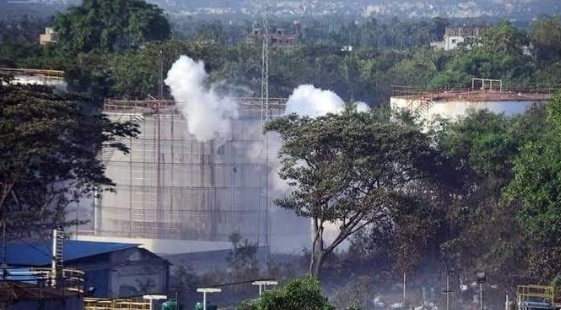 Les services d'urgence ont évacué des villages et fermé une distance de trois kilomètres. La fuite de gaz de l'usine RRV Puram près de Gopalapatnam, à environ 15 kilomètres de Visakhapatnam, a touché 2 000 personnes dans cinq villages du pays.
Cet incident de fuite de gaz styrène s'est produit lorsque la société LG polymers a appelé à la réouverture de l'usine jeudi après plus de 40 jours d'arrêt au milieu du coronavirus. Selon l'étude initiale, une fuite de styrène pourrait avoir eu lieu dans le réservoir de stockage de l'usine. Le styrène liquide a été stocké dans le réservoir, qui prendra la forme gazeuse à une température de plus de 20 degrés centigrades.
2020 is the worst year ever!

I'm praying for the people of Vishakhaptnam. Whole India ?? #StandWithVizag. #PrayForVizag #VizagGasLeakage #VizagGasLeak #VizagGasTragedy pic.twitter.com/YroRblMGSe

— Licypriya Kangujam (@LicypriyaK) May 7, 2020
Selon le site Web de l'entreprise, l'usine LG Polymer est exploitée par le fabricant sud-coréen de batteries LG Chemical Ltd.Elle produit des produits utilisés dans la fabrication de pales pour ventilateurs électriques, contenants de cosmétiques, etc. et utilise des matières premières en styrène pour produire le produit.Le styrène est extrêmement inflammable et émet des gaz toxiques lorsqu'il est brûlé.
La tragédie du gaz de Vizag nous rappelle la catastrophe de Bhopal, également appelée la tragédie du gaz de Bhopal, était un incident de fuite de gaz dans l'usine de pesticides Union Carbide India Limited (UCIL) à Bhopal, Madhya Pradesh, Inde, dans la nuit du 2 décembre au 3, 1984. Elle est considérée comme la pire catastrophe industrielle au monde. Le méthylisocyanate (MIC) a été exposé à plus de 500 000 personnes.
Mais jusqu'à présent, les choses ne sont pas pires à comparer avec la catastrophe du gaz de Bhopal. Équipe de secours, police locale, etc. tout le monde travaille dur pour assurer la sécurité des personnes.