Kargil-Skardu Route: Not Just a Road
Recently, many of us came across news of "Open Kargil-Skardu movement " which peoples of Kargil and Skardu region are demanding from both Indian and Pakistan government to start the initiative of opening the route which was closed since 1947 . Although this demand was started a long way back but very little attention is paid to it. Recently due to the opening of kartarpur sahib corridor, people of kargil and baltistan region gets a new hope as both countries government may pay attention to open the route once again on humanitarian grounds which will allow people to meet their relatives living on other side. For decades People shares same lifestyle and culture across these region but have no direct connection. .
Advertisement
Families living in Kargil and Skardu (Capital of Baltistan) has to travel around 2700kms(Kargil- Delhi –Islamabad-Gilgit) to meet their relatives living in other sides. It's not like both places kargil and skardu are very far but Line of control(LoC) between them made it looks so far. Shortest distance from kargil to skardu is hardly 160-170 km by road and it will take not more than 8 hrs to reach either destination.
Also Read : Don't think Kargil is a War Place

For financially well off people it might not seems to be a challenge to cover 2700kms and meet their relative but for ordinary families is not less than like a visiting another planet.
So ,Peoples are carrying out a peaceful protest as part of 'Open Kargil-Skardu movement' to demand the reopening of the road between Kargil and Skardu.
After marking of LoC in 1949, kargil and leh region got divide from baltistan and so does the families from both side. Many families still have their ancestors on the other side but due to the partition they are waiting from generation to meet them.
Kargil- Skardu road has its own historical and cultural importance , till 1947 before partition it was one of the major ancient silk route for central Asian trader to do the business. There was a kingdom called "Ladakh Wazarat" which was formed in Kargil,Leh and Baltistan constituency but after the partition it got divide in two region i.e. India and Pakistan.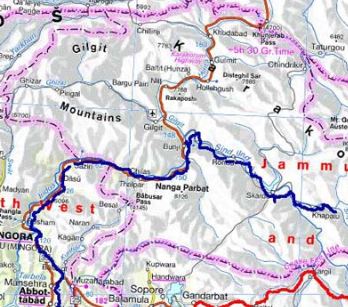 Kargil – Skardu is also consider as all weather route which provide round the year connectivity and is better compared to present ladakh route which remains closed for almost 4-5 months during winter season.
Reopening of the road between Kargil and Skardu will also boost the tourism industry across both the regions as it has extreme potential to lure adventure tourists from across the world as well it will also re-open the ancient route for trade and commerce.
This one step towards humanity will definitely act as friendship route between two neighbors.
Swikriti Dandotia