National Dentist Day 2023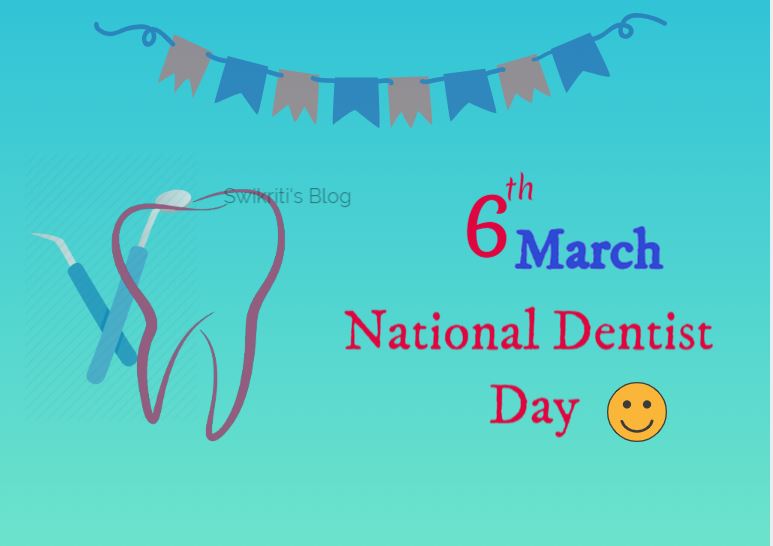 The dentists are not the most popular people but they are the only one who keeps your teeth healthy and gives you a beautiful smile. National Dentist Day is celebrated to thanks the dentist who helps us to keep our teeth healthy. This day is celebrated annually every 6th of March in India and the USA. The Dentist day is marked to honor dentists all over the world for their role in keeping us healthy and for giving us a healthy and beautiful smile.
The dentists are those doctors who have done specialization in oral health and their job is to prevent, diagnose and treat our oral mouth and teeth diseases. It is one of the oldest medical specializations. There are many specialties in dentistry and on this special occasion, it is the best time to know and recognize them. Their contribution and responsibility towards dentistry includes-
To prevent oral diseases and promote oral health.
Diagnosis of oral disease such as mouth cancer, tooth diseases, etc.
To create a plan for the treatment to restore and master the oral health of the patients.
The purpose of celebrating Dentist Day is to show appreciation and to thanks the dentist. It is one of the ways to create awareness about dentistry among the people to know more and how to take care of their teeth. National Dentist Day encourages those people who mostly avoids the routine check-up to the dentist.
Today, dentists are preferred as an important part of the medical and health system as they care for people who are suffering from severe tooth problems and the best part is they also perform surgeries to correct misaligned teeth and many other problems that are affecting the jaw and oral cavities.
Some important Dental tips which we can follow-
Must brush your teeth twice per day for at least two minutes.
Take an appointment and visit your dentist twice a year for a regular checkup
Must have a balanced diet with limited eating and drinking water between the meals.
Floss your teeth daily.
Some facts about dentistry
In 2015, Dentist ranked number one for top jobs.
Our teeth are as unique as our fingerprints.
The first facial feature "our smile" is noticed by half of the people when we come in contact daily.
It is said that the average Americans spend about 38.5 total days brushing their teeth over a lifetime period.
In 1866, the first female dentist was Lucy Beaman Hobbs.
The dentist recommends that a toothbrush must be kept about 6 feet away from our toilet to avoid airborne particles coming from the flush.
How to celebrate National Dentist Day
As a patient, we can celebrate by making a thank you note to our dentist for giving a healthy smile and make a dental appointment for a dental check-up. You can also raise awareness about oral diseases and teach everyone to brush your teeth and visit a dentist. We can show improved oral health to our dentist. Make a poster to aware people of mouth and teeth diseases and also you can take a picture of the dentist and thank them on your social media.
As a dentist, you can post some tips on the importance of a healthy smile, oral health and teeth diseases. Share some pictures and poster to make aware people about brushing teeth.
On this day the Indian Dental Association (IDA) organizes continuing medical education (CME), many workshops, and seminars to update our dentist about the various development programs about how to improve dental health.
Swikriti Dandotia