Hung King Festival(Hung Kings Commemoration Day) 2020- Celebrations, Rituals and Significance
Hung King Temple Festival is one of the most prominent Vietnamese festivals held annually in Vietnam from the 8th to the 11th day of the third lunar month in memory of king Hung Vuong. The major festival day, which is a national holiday in Vietnam since 2007, is the 10th day.It is also known as "Hùng Kings Commemoration Day" dedicated to the Hùng Kings, who are, according to legend, 18 Vietnamese emperors who ruled from 2879 to 258 BC and founded Văn Lang (Vietnam's former name). Húng Kings ' Commemoration Day is a happy way for young people to learn about their ancestors and ancient traditions, immortalizing the Vietnamese proverb "when drinking water, think of its source."
This year Hung King festival begin on Tue, 31 Mar, 2020 and ends on Thu, 2 Apr, 2020 .
Hung King Temple Festival Celebrations and Rituals
Every year at the Hung King Temple, Phu Tho, people from all parts of the country and even from abroad come together for commemoration ceremonies.Celebrants on this day go on a pilgrimage to the Nghĩa Lĩnh Mountain near Việt Trì where the first Hùng King Kinh Dương Vươngis said to have founded his kingdom. The ceremony takes place over several days, but the most important is the month's 10th day. A procession starts at the mountain's foot, stopping at every small temple before entering the High Temple. Here pilgrims offer prayers and incense stics to their ancestors. Xoan singing is one of special and significant events during the Vietnam festival.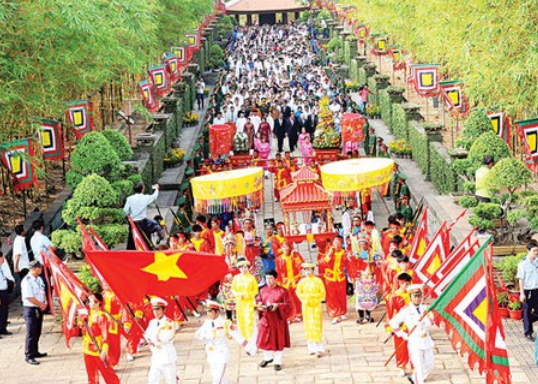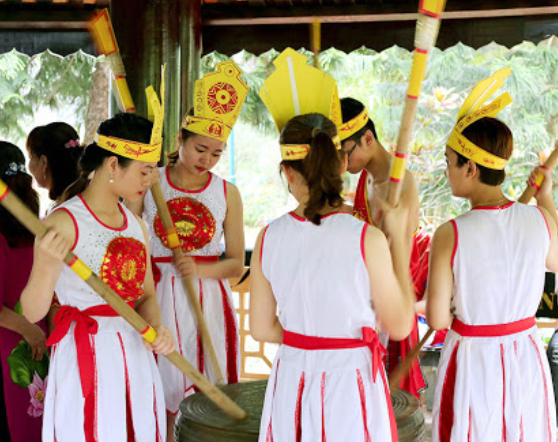 Two main components of Hung King Temple Festival are the ceremony and the event. The ceremony segment is solemnly observed as a national festival. The offerings include three animals (one cow, one Goat and one beef), Banh Chung (sticky rice pudding), Banh Giay (sticky rice pudding) as well as colorful sticky rice in conjunction with the old bronze drum kit.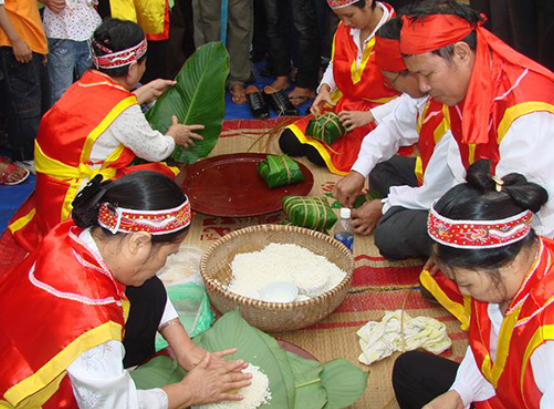 The competition of sedan chairs between villages is arranged at all Hung Temple Festivals. Village sedan chairs must be gathered a few days before the competition. This competition's winner has an opportunity to take the Upper Temple procession to celebrate national ceremony. A procession has three sedan seats. All are painted in royal colors with intricate sculptural designs and skillful decorations. The first sedan chair includes ceremonies such as exquisite roses, incenses, betel, areca and wine. The second sedan chair consists of ancestral deity shelves with multi-colored parasols and ranges. The last sedan chair with Banh Chung, Banh Giay and pig head, accompanied by the old villagers and officials.
Importance of Hung Kings death anniversary Celebrations
Overall, the Hung Kings ' death anniversary is a valuable chance for Vietnamese both at home and outside the country to reinforce its long-standing tradition of appreciation, patriotism and foster national harmony. Hung King festival has been inherited by Vietnamese citizens and practiced for thousands of years, despite China's extreme dominance and French colonialism.