Buddha Purnima, Buddha Jayanti, Vesak full moon Poya Day 2023- All you need to know about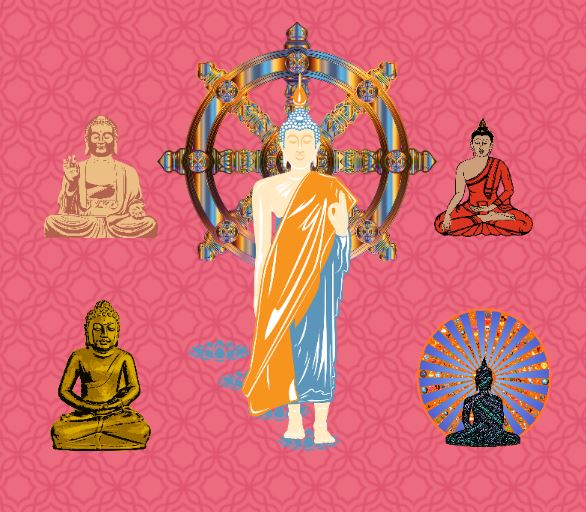 Buddha Purnima is also known as Buddha Jayanti, as Gautama Buddha was born in Vaishakha on the full moon day.It is also called as "Vesak Day". The name of the observance comes from the word Pali vesākha or Sanskrit vaiśākha, named after the lunar month falling in April – May. The festival commemorates Gautama Buddha's birth, enlightenment, and death (Parinirvāna). It is said that on the same day, Buddha was born and attained Maha Parinirvan after having lived on this earth for eighty years.
This year Buddha Purnima or Vesak Poya Day 2023 will be observed on 5th May.
How Siddhartha Gautama became the Buddha?
Siddhartha was born into a Royal Family in Lumbini, now a village in Nepal and was separated from life's sufferings such as illness, age and death because of his royal background. Siddhartha went out of the royal enclosure one day after growing up. As he went out, he saw for the first time each an elderly man, a sick man, and a dead body.He considered disease, age and death to be the unavoidable destiny of human beings that none could help escape.
He also saw a monk, and decided it was a sign that he should leave his safe royal life and live as a holy homeless person. Siddhartha met an ascetic who inspired him to live a life of total isolation and self-denial.The Buddha also practiced meditation, but found that the highest meditative conditions were not adequate.This life of intense asceticism was pursued by Siddhartha for six years, but this did not satisfy him either; he had not emerged from the world of misery yet.
He rejected the strict lifestyles of self-denial and asceticism, but did not return to his early privileged luxury. To the opposite, he adopted the Middle Way, which sounds like it; not privilege or deprivation.Sitting below the Bodhi tree (the tree of awakening), Siddhartha was one day overwhelmed profoundly by meditation and reflected on his life experience, determined to penetrate his reality.
He finally received the Light and became the Buddha. The Mahabodhi Temple is a pilgrimage site on the site of Buddha's illumination.
Vesak Full Moon Poya Day and its Celebrations
In South and Southeast Asia countries like Sri Lanka ,it is celebrated as Vesak full moon Poya day. The Vesak Full Moon Poya Day is of the greatest importance of all Poya Days, as it marks three significant events in Lord Buddha's life. Buddha's third visit to Sri Lanka, according to Buddhist tradition, also took place on the Vesak Full Moon Poya Day. At the invitation of Naga King Maniakkhika Kelaniya, Buddha visited Kelaniya.
Vesak is known as a religious and cultural festival in Sri Lanka. During this time there are many religious activities held in Sri Lanka like Buddhist temples worship. Apart from the exclusive religious aspects of the festival, the Buddhists of Sri Lanka decorate their homes and places with lanterns, known as Vesak Koodu, along the streets and in front of their houses. Food stalls established by Buddhist devotees called Dansalas provide pedestrians with free food and drink. The weekly celebration offers tourists the opportunity to experience the religious and cultural customs of Sri Lanka.
In the month of May there is normally one full moon, although there are also two because there are 29.5 days between full moons. If there are two full moons during the month of May, some countries (including Sri Lanka, Cambodia and Malaysia) observed Vesak on the 1st, while others (Thailand, Singapore) celebrated the 31st as holiday due to a particular local lunar observance.
Buddha Purnima Celebrations
B.R Ambedkar introduced Buddha purnima's public holiday in India. It is celebrated particularly in Sikkim, Ladakh, Arunachal Pradesh, Bodh Gaya, various parts of North Bengal such as Kalimpong, Darjeeling and Kurseong, and Maharashtra (where 77% of total Indian Buddhists reside) and other parts of India according to Indian calendar.
Buddha Purnima has been a commercial, political, spiritual and cultural festival over the years. The activities arranged on this occasion include Bodhidroom Mela, Sutrasraban, Sutrapath, Ashtasheel, Panchasheel, religious lectures and discussions about the Buddhist scriptures, meditation, adoration of the Buddha statue, processions and recitals of prayer. The festivities frequently last for more than three days to a week.
Eight Practices of Noble Eightfold Path
Eightfold Path consists of eight practices: right vision, right resolve, right voice, right behavior, right living, right effort, right conscience, and right samadhi(Concentration). In early Buddhism, these practices started with recognizing that the body-mind functions in a distorted manner, followed by entering the Buddhist path of self-observance, ego-restraint, and practicing kindness and compassion; and concluding in dhyana or samadhi, reinforcing these practices for body-mind growth.
United Nations has declared 5th May as "Vesak Day"
By its resolution 54/115 of 1999, the UN General Assembly recognised internationally the "Vesak Day", acknowledging the contribution that Buddhism, one of the oldest religions in the world, has brought to human spirituality for over two and half millennia.