Gas leakage in Vizag(India) from LG Polymers factory
In the early hours of Thursday, at least 8 people were killed by a gas leakage from the LG Polymers factory outside Visakhapatnam in Andhra Pradesh.The styrene gas leakage was reported at 2.30 am IST.
The incident triggered panic among residents in the 3 km area. Several people were seen to lie unconsciously on the roads while breathing problems were encountered. People even complained of rashes in their bodies and hair.
Rescue services have vacated the villages and closed off a distance of three kilometres.The factory's gas leak in RRV Puram near Gopalapatnam, some 15 kilometers from Visakhapatnam, affected 2,000 people in five villages around the factory.Panic-stricken people fled the area and many fell unconscious on the roads.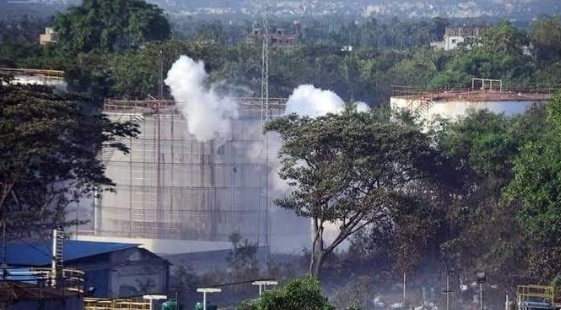 This styrene gas leakage incident occurred when the LG polymers corporation called for the reopening of the plant on Thursday after more than 40 days of lock-down in the midst of the coronavirus.As per the initial study, the styrene gas leakage may have occurred in the storage tank of the plant.styrene in liquid form was stored in the tank, which will take gaseous form at a temperature of over 20 degrees centigrade.
The storage tank cap may have fallen off and the losses were incurred by the time engineers tightened the gap and neutralized the liquid.
According to company website,The LG Polymer factory, operated by southkorean battery manufacturer LG Chemical Ltd. It produces products used in the manufacture of electric fan blades, containers for cosmetics, etc. and it uses styrene raw material to produce the product.Styrene is extremely flammable and emits a toxic gas when it is burned.
Vizag gas tragedy remind us of The Bhopal disaster, also referred to as the Bhopal gas tragedy,was an incident of gas leakage in the Union Carbide India Limited (UCIL) pesticide plant at Bhopal, Madhya Pradesh, India, on the night of 2–3 December 1984. It is considered the worst industrial catastrophe in the world. Methylisocyanate (MIC) gas was exposed to over 500,000 people.
But so far things are not that worse to compare it with Bhopal gas disaster.Rescue team ,local police etc everyone is working hard to ensure the safety of the people.