World Toilet Day 19th November 2021 Theme-Valuing Toilets
World Toilet Day is celebrated to raise awareness about sanitation and to take action towards the global sanitation crises which can help to achieve Sustainable Development Goal (SDG 6), Sanitation for all by 2030. World Toilet Day is an official United Nations international observance day celebrated every year on 19th November.
In 2001, the World Toilet Organization established World Toilet Day and twelve years later in 2013, the UN General Assembly declared World Toilet Day an official UN day.
Theme of World Toilet Day 2021
This year the theme of World Toilet Day 2021 is Valuing Toilets
Sustainable sanitation must be open for all to resist climate change, keeping populations safe and operational. Sustainable sanitation systems also reuse waste to safeguard farmland and reduce and capture greener energy emissions.
What is a sustainable sanitation system,? however, Sustainable sanitation starts with a toilet capturing man-made waste in a clean, usable and dignified environment effectively. The waste is then collected in a tank that is later drained or taken off by a recycling service. Treatment and safe disposal are the next move. Save water, cutting down on and capturing greenhouse gas emissions for energy production and providing a reliable water and nutrient supply to agriculture.
Every year there is a theme for World Toilet Day which is selected on the basis of related communications campaigns and since 2016 the annual theme for World Toilet Day and World Water Day is the same and based on World Water Development Report.
The official convener of World Toilet Day is UN-Water which also maintains the official website of World Toilet Day and it promotes the important issues and stories that provide communication campaigns, events, and opportunities to participate. The UN-Water selects the theme of World Toilet Day based on the World Water Development Report.
History of World Toilet Day
On 19 November 2001, Jack Sim, a philanthropist from Singapore found the World Toilet Organization and he also even declared 19 November the World Toilet Day. Later for the ease of the public World Toilet Organization chooses named "World Toilet Day" instead of "World Sanitation Day".
WTO (World Toilet Organization) wants global recognition for World Toilet Day and in 2007, World Toilet Day was actively supported by the Sustainable Sanitation Alliance (SuSanA). On 28 July 2010 United Nations General Assembly, the Human Rights to Water and Sanitation was recognized as Human Rights which supported the sanitation crises.
In 2013, an initiative between the World Toilet Organization and Government of Singapore led to Singapore's first UN resolution which was name "Sanitation for All" with an aim to end Sanitation crises. After that in 2013, World Toilet Day was officially declared UN day.
Key Facts about World Toilet Day
–>More than half of the global population lives without safely managed sanitation or either has no toilets.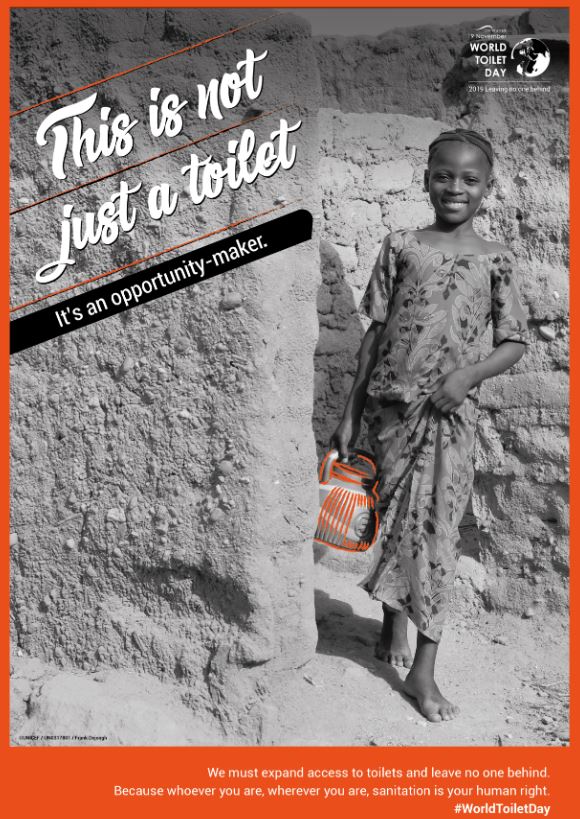 –>673 million people still practice open defecation means the human waste feces is not being treated.
–>1.8 billion people use impure drinking water with no protection for contamination feces water.
–>Inadequate sanitation can cause diarrhoeal deaths around 4,32,000 every year which is major factor of causing diseases like intestinal worms and trachoma.
–>One-fifth of schools worldwide do not have toilet facilities the main problem for girls during mensuration.
–>Children living in a country below the age group of 5 are affected by protracted conflict in an average of more than 20 times children likely to die from a diarrhoeal disease caused due to impure water or lake of sanitation and hygiene.
Aim of Global Sanitation Targets
The targets of Sanitation within SDG 6 Includes:-
— Access to adequate and equitable sanitation for all. SDG 6.1
— Open defecation should be ended under the target of SDG 6.2
— Water quality should be improved by reducing pollution and wastewater should be safely reused and must be treated under SDG 6.3
To celebrate World Toilet Day, you can organize different events that can be registered through the World Toilet Day website.
One toilet in a house can improve the lives of the family because human waste can spread many diseases.
Swikriti Dandotia