World Migratory Bird Day 2022 Theme to Focus on Light Pollution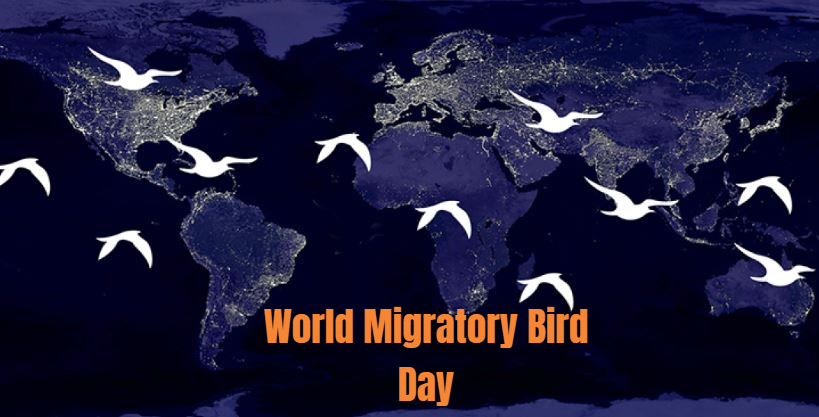 World Migratory Bird Day (WMBD) is a global awareness-raising campaign about the conservation of migratory birds and their habitats. This global campaign is an important platform to increase public awareness of migratory birds and the threats faced by them, their ecological significance, and the need for international cooperation to conserve them. World Migratory Bird Day is observed annually on every second Saturday of May. The United Nations is among the many organizations that support this campaign of global awareness.
Date of World Migratory Bird Day
This year World Migratory Bird Day will be celebrated on Saturday 14th May 2022.
World Migratory Bird Day reminds us that our efforts to protect migratory birds and their habitats need to be stepped up more than ever now. Many species of birds are disappearing across the world and the ongoing loss and degradation of biodiversity have also been related to the kinds of infectious diseases that we are now battling.
World Migratory Bird Day was initiated in 2006 by The African-Eurasian Waterbird Agreement, Convention on Migratory Species, and Environment for the Americas (EFTA) have joined together to enhance the recognition and global awareness of the migratory birds.
Theme of World Migratory Bird Day 2022 – Light Pollution
Every year the Convention on Migratory Species decides the theme raise awareness about the protection of migratory birds. This year the theme of World Migratory Bird Day 2022 will focus on Light Pollution.
Artificial light is increasing by at least 2% per year around the world, and it has been shown to harm several bird species. Light pollution is a serious concern to migrating birds, causing them to become disoriented when flying at night, resulting in collisions with buildings, disrupting their internal clocks, and obstructing their ability to migrate large distances.
Light pollution can be easily solved. For example, an increasing number of towns throughout the world are taking steps to lower building lights during spring and autumn migration periods. The Convention on Migratory Species is also developing best practise guidelines to address this growing issue and ensure that global action is taken to help birds move safely.
Migratory birds have to survive on the entire migratory routes across a network of intact ecosystems. More and more global action is needed to protect migrant birds on their foreign journeys, through multilateral environmental treaties such as the CMS, the African-Eurasian Waterbird Agreement (AEWA). The construction of protected corridors through cross-border ecosystems will support migratory birds and other wildlife in particular on the scale of the countryside.
In order to prevent the migratory birds, the critical sites must be a safeguard and managed properly. As defined by Bird-Life International, Supporting Important Bird and Biodiversity Areas (IBAs), offers migratory birds the required feeding, breeding, nesting, and protected areas for long flights.
Celebrations
Last year many events registered for the celebration of World Migratory Bird Day which includes the gathering public events and school groups. In comparison to past year, this year the global celebration will be different as the world is facing global health crises.
Swikriti Dandotia